Here is a book by a food historian which goes far beyond a collection of recipes, resembling not so much a cookbook as an ethnography through food.  Many recipes are presented with variations of their ingredients and methods over time, or little capsule biographies of their contributors and histories of their sources, providing a fascinating picture of the history of the Pennsylvania Dutch as an evolution of culture in the New World.
The book (and Dr. Weaver in person, a few months ago at meeting of the Culinary Historians of Washington) explains how the settlers adapted their baking to American ingredients, while preserving legends and folkways from Europe.  Breads, cakes, cookies, pies, and puddings – and Datsch cakes, a kind of flatbread – each have a chapter.  Pretzel recipes and lore are scattered throughout the book in such profusion that they really merit a chapter – or book? – to themselves.
Then there are artifacts of the New World: "Whoopie Cake (Greischlikuche)" invented in Massachusetts in 1926 and now ubiquitous in Dutch Country bakeries; and surprising ingredients such as saffron (raised in Pennsylvania since the 1730's) and mango schnitz.
The copious photographs of cooking implements and examples of the baked goods produced in them are an added attraction to this material girl.  And to a Philadelphia native, the bit of history explaining the origin of the name "Shoofly Pie" was precious.  Shoofly the Boxing Mule was locally famous in the 1880's, and the gooey, molasses-laden confection that I grew up eating was named in his honor (also, schuflei means "little crumb" – with which the pie is topped).
Now, how about those recipes?  Only two or three are subject to the dread overleaf transgression.  Sometimes, measurements are mixed.  In the recipe I tried, the ingredients list has two separate lots of sugar, one measured in tablespoons and one in ounces. Fortunately, Metric conversions are given for all, so confusion is minimized; still, it seems like a simple thing to avoid.
A more serious problem: on that same recipe (Cinnamon Rolls or "Snails" Schnecke), a suggestion for a variation for the filling refers the baker to a recipe for the poppy seed filling of a cake which has no filling, poppy seed or otherwise.
The Cinnamon Roll bake was a foray into unfamiliar territory for me, as I don't attempt yeast-raised breads very often.  I have to report that my results were not worth the time (two risings) or mess generated by the process.   But that was probably just me, being inept.
But please don't be put off by my lack of success with one recipe!  This book is compelling reading for its historical depth and obvious scholarship, without being fusty about it.  The back matter alone is proof of academic virtue: a glossary of baking terms and tools, bibliography, ingredients source list, index, recipe list, and contributors list.  And a wonderful illustration of Shoofly, the Boxing Mule.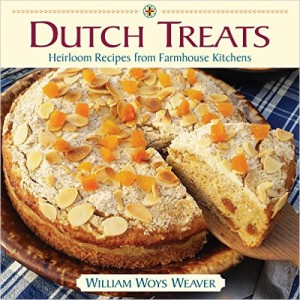 Dutch Treats: Heirloom Recipes from Farmhouse Kitchens by William Woys Weaver, St. Lynn's Press, Pittsburgh, 2016.