I went back to Wegman's in Columbia (see preview) looking for dinner, and stumbled across a treat: Thursday is Lobster Night.  At the Food Bar, they will steam to order a 1-pound lobster and serve it to you with corn, potatoes and melted butter for $16.00 plus tax.  You can eat it there or carry it out.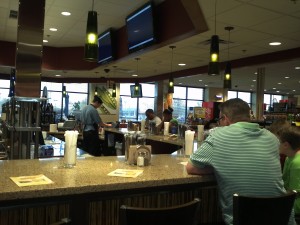 It takes ten minutes.  They give you a beeper to alert you when the beast is ready, so I wandered about the store while I waited.  I noticed that they have lobster available in many forms.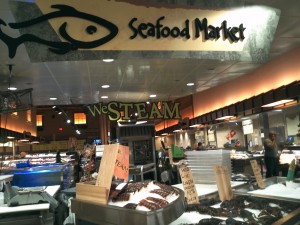 Primo, of course, live.  Instead of putting their lobsters in tanks like any other store, Wegman's displays theirs on a bed of ice.  You can get up close and personal with them.  Maybe not too close.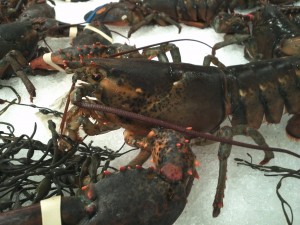 They also had whole steamed lobsters, lobster rolls, and (priciest), lobster salad.  When I thought I had seen all possible permutations, I noticed one more: the lobster pretzel.
This appeared to be a generous amount of lobster mixture topping an oversize pretzel, possibly the soft kind from Philadelphia.  A woman standing next to the counter (a customer, not an employee), noticed my interest and assured me that she had bought one in the past and that it was quite good.   I'll have to take her word for it.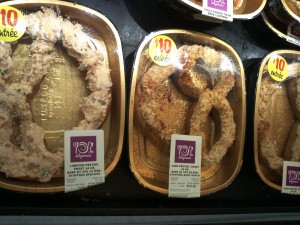 There were some very large fish displayed on ice, which Wegman's employees will slice to order.  One of them held up a halibut so I could get a good picture – thank you, Michael!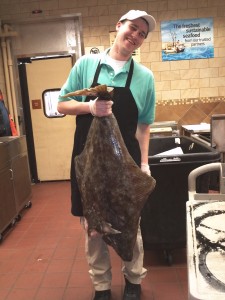 Then the buzzer went off and my personal lobster was ready.  It was very good.  I had to take two of the three boiled potatoes home as leftovers.  Just one problem: the half-ear of corn was overcooked and mushy – it must have been precooked.  Why not just throw one in the steamer with each lobster?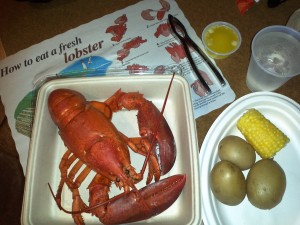 But overall it was a thoroughly satisfactory  lobster supper.  I look forward to returning some Thursday in the future for another one, and perhaps on a Tuesday to try the steak special.