Honey Pig first showed up on our radar when we went to the brand-new Lotte Supermarket in Catonsville (just down the road from the H-Mart).  There's a stall selling Honey Pig Dumplings inside the Lotte.  We bought some and were hooked.  Since they opened with only three kinds of dumplings, they have expanded to about eight (but not all are available all the time).  They are large, steamed, filled buns served with dipping sauces to go – there is no place to sit and eat in the store.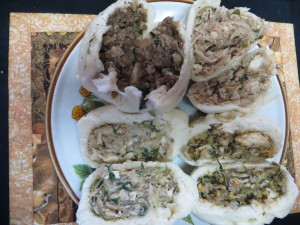 All of the varieties we tried were excellent – pork, beef, bulgogi, kimchi, vegetable, chicken.  Many fillings incorporate transparent noodles and greens along with the main ingredients.
Then we discovered that the Honey Pig franchise had expanded to a restaurant in Ellicott City.  Honey Pig Korean BBQ Restaurant on Route 40 is open 24 hours (except Monday morning) and was doing a roaring business when we went on Saturday night.
I mean roaring literally – it was so loud you had to shout to be heard over the crowd and the music.  The noise bounces off metal surfaces all over the room, and out of the speakers of the large screen with Korean music videos playing constantly.  Fortunately, the wait staff is patient and good-humored.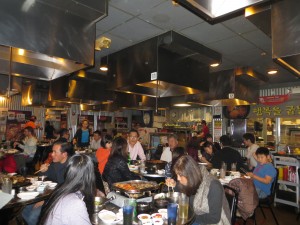 As soon as you sit at the table, a variety of little dishes starts showing up. About half a dozen panchan; chili paste, garlic and peppers to season your meat; dipping sauce ditto; a bowl of green salad; rice.  You consult the laminated menu for your choice of meats (there are some soups and appetizers as well), as the waiter fits your grill to the fixture and turns on the gas.  We decided on boneless beef ribs, duck, and beef tongue.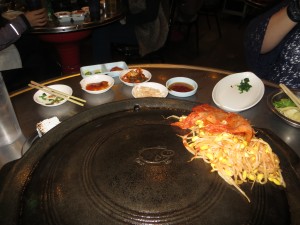 The first thing to hit your grill is a mixture of bean sprouts and kimchi.  Then the thin slices of tongue.  Your waiter will keep an eye on your meats, turn them and caution you when to take them off the grill.  The tongue cooks in a matter of minutes, until it's crispy on the edges and succulent.  Mixed with the rice, sauce and complementary steamed egg served sizzling in a stone bowl, it makes a fine first course of meat.  My only complaint – that the thin slicing muted the distinctive taste of this cut of cow – was outvoted by my family, whose vow that I would be the only one eating tongue was overcome by its mildness.  Win some, lose some!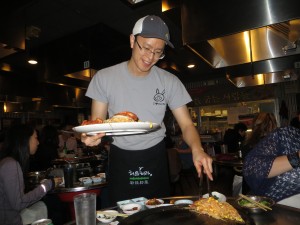 The duck comes next.  The rim of fat mostly melts off on the grill, leaving a soft slice which mixes nicely with the bean sprout-kimchi mix.  Then the beef, cooked until rare.  The small chunks were tasty, but a few were tough.  It was least successful meat of the meal, in my opinion.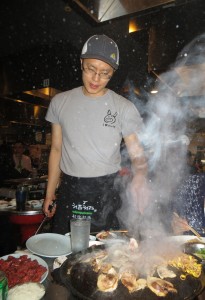 By this time, the sprouts and kimchi had cooked down to a surprisingly delicious mess of crispy-tender-sweet-slight-spiciness.  We scraped it all off the grill  and onto our plates as a fitting end to our adventure in Korea by way of Ellicott City.
One way I judge an ethnic restaurant is by the proportion of that ethnic group present at the tables.  By this measure, Honey Pig is a hit.  Many Koreans, some young in groups, some with large families, were enjoying the food when we were there.  So were many non-Koreans, thanks to the helpful staff.  If only we could hear them a little better!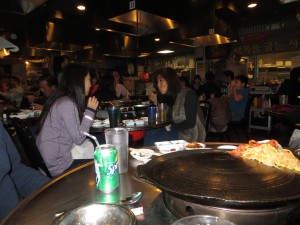 When we return, it will not be on a Saturday night.  And we will return.  Din does not trump deliciousness.
P.S. I have just learned that a Honey Chicken stall has opened in the Lotte next to the Honey Dumpling.  Stay tuned!