I spent a week in what must be the best place in Europe for eating cheaply but well.  Krakow, Poland, is a city full of genuine Medieval charm (not bombed in WWII) and genuine eating bargains.  I had several lunches and very good dinners with drinks, and never spent more than fifteen dollars for a meal.
Tuesday's lunch, for instance, consisted of a "full Wypas" at the Plac Nowy market.  I walked there at noon on a dreary, rainy day and saw a sparsely populated market square with a few stalls selling vegetables and second-hand goods, surrounding a round brick building with inside stalls for meat sellers, none of them open.  I was about to mark it down as a wasted trip when I noticed that the market building was actually a central round structure with another, freestanding ring-shaped building encircling it; and this outer ring housed sellers of hot food.  Lunch!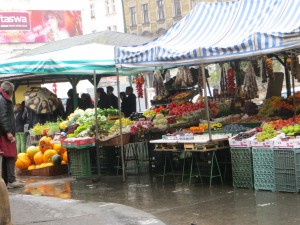 I had to walk all round the ring before I mustered the nerve to order.  I confess to finding a placard labeled "English Menu" heartening.  I could tell it was a pretty direct translation from the Polish, and the prices were not raised for the tourists!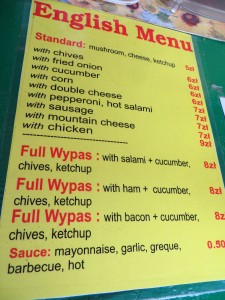 After waiting about 3 minutes, I was presented with a construction about as long as my arm.  It was warm baguette-like loaf, toasted, covered with mushrooms and melted cheese, ham, ketchup, pickles, and chives in a cardboard sleeve, for which I paid 8 zlotys.  I completed the meal with a can of Pepsi decorated with a picture of Elvis Presley (Elvis Pepsi!)  for 1 zloty more.  That was a grand total of three dollars.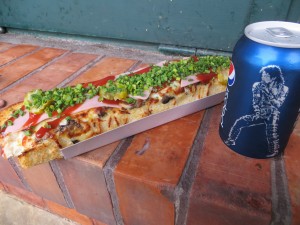 Cheap, yes, but was it good?  Also yes.  Warm, crispy on the outside, tender in the crumb, with savory toppings, it was so big I could barely finish it – although my new best friends, the pigeons, helped me out there.
During my week in Krakow, I learned that the Plac Nowy was the main market for Kazimierz, the old Jewish Quarter, before the Holocaust.  Now, its business increases towards the end of the week (and depending on the weather).  I expect it would be more populated on the weekend, but I only saw it on lunch times and on Friday afternoon.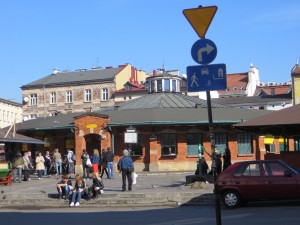 It was much livelier in the better weather.  On sunny Thursday, I went back for another full Wypas from another window in the wall.  This time I got a chicken with garlic sauce, and it was even better than the first one.  There were more second-hand stalls open, and I did some shopping; then I had to go back to my meeting.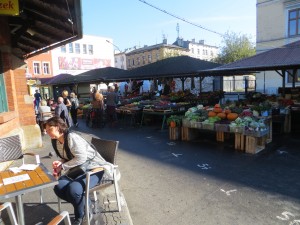 On Friday, a colleague and I shopped for provisions to cook dinner for some of our fellow committee members.  The market was lively, the outer stalls were full, but alas! the meat stalls had closed before we got there.  We were directed to a butcher shop down the street, but that's another post!