I went up to the Baltimore Convention Center to see the Natural Products Expo East.  They were very accommodating to the press, with a nice press room and a separate room for bloggers.
This Expo is similar in appearance to the Fancy Food Show, but has a differing vibe.  Where the FFS is hedonistic, the Expo is earnest, with a good-for-you-and-the-environment feeling to all of the products on display.  Also, food is just one part of the show, with health and beauty aids, supplements, pet products, and household goods included under the big  tent.
Herewith are some of my impressions of the food portion of the show floor.  I detected three big trends: gluten-free products, stevia-sweetened drinks, and Greek-style yoghurt.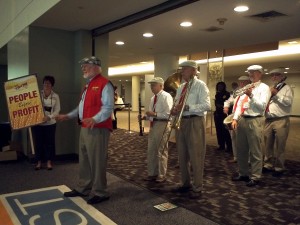 There really is a Bob behind Bob's Red Mill, and he was a big presence at the show – from entering the show floor leading a brass band, to signing copies of a book written about him (People Before Profit, by Ken Koopman), to hiring a professional photographer to take pictures of anyone who cared to pose with him.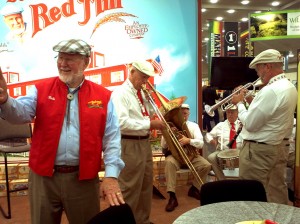 I learned that Bob had given his Mill to his employees on his eighty-first birthday, but still remains involved with the business of grinding and shipping an amazing variety of whole grains to stores across the country.  Two years later, he can still outpace folks half his age.  He is his own best advertisement for his products!  Speaking of which, I got a sample of gluten-free muesli.
Down the hall, another company was showing their own take on grains.  Quinn Popcorn's booth was manned by several twenty-somethings selling their flavored microwave popcorn with a nostalgia theme (!)  I liked their line drawings suggesting the furnishings of a mid-century kitchen, just like the one I grew up with.  There would not, of course, be a microwave oven in it.
The taiyaki maker was there from last year.  This time I got a good picture of the machine which fills the little fish-shaped waffles with crème.
In support of the Greek yoghurt trend, several small companies, as well as large, nationwide firms, were there to convince retailers that their brand was the best.  Chobani had a big presence, giving out product with a generous hand, as well as presenting a chef imported from their New York yoghurt cafe.
Executive Chef Tim Reardon was preparing samples of three yoghurt-based treats served there.  One, with olive oil, cucumbers and mint, was based on traditional recipes familiar from Greek and Indian cuisine.  I asked him something I had wondered about for years:  why has no company marketed this type of savory-flavored yoghurt?  He hinted that Chobani might consider doing this very thing, but would not say further.   Now, I have to admit that my favorite of the three samplings was the one with pistachio, dark chocolate, honey, oranges, and mint.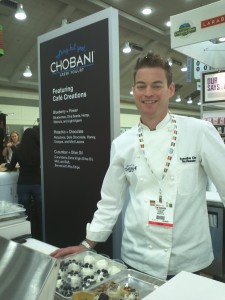 Snapz Apple Crisps had a small but eye-catching booth.  The apple-sitter even bore a passing resemblance to Snow White.  I didn't ask if she was from New York.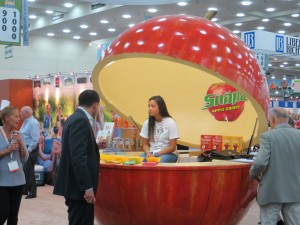 And then there was Doron Petersan of Sticky Fingers Bakery, signing books at the Earth Balance booth.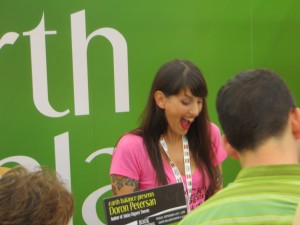 Coming: Alice Waters! And more!