The Mayor of Baltimore, that is – and, considering that I had never ever seen any mayor before, this was exciting!
The first time was at the 2nd Annual Urban Farm and Food Fair, held on a sunny Saturday at the Real Food Farm in Clifton Park.  This event was meant to recognize and celebrate the nascent urban farm movement in Baltimore.  Sponsored by organizations including the Farm Alliance of Baltimore City and Slow Food Baltimore among others, it was a chance to schmooze with farmers, local food producers, and representatives from such worthy organizations as the University of Maryland Extension, Johns Hopkins Center for a Livable Future, and the Maryland Department of Agriculture.  And, of course, a chance to eat really good food.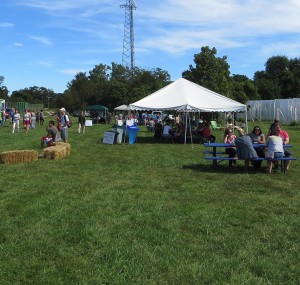 You could identify Mayor Rawlings-Blake because she was the only woman on the field in heels.  She stayed just long enough to give a short address and inspect the garlic drying shed, but it was still nice to know she supports urban farms and locally-produced food in Baltimore.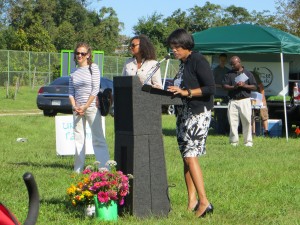 There was a row of food trucks and booths representing a spectrum of culinary philosophies, from vegan, gluten-free, conscious cuisine to barbeque and ice cream.  I went for the barbeque (well, it was chicken), and, yes, also the ice cream.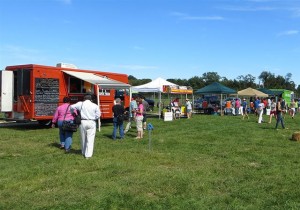 The barbeque was furnished by Clementine, a restaurant at the Creative Alliance, an artists and performance space in Highlandtown.  The barbeque was a little under-seasoned for my taste, but the chopped salad served with it was top-notch.  I have put Clementine on my list of places to investigate in the future.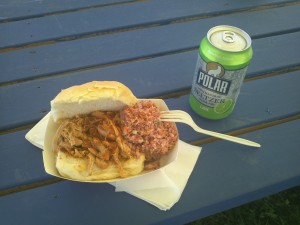 The Taharka Brothers were selling their excellent ice cream.  I had to try their (locally sourced!) corn flavor to see if it was as good as what I had in Kennett Square (see A Pennsylvania Interlude), but once you've had corn ice cream topped with chile powder and cinnamon, you're spoiled for the unadorned stuff.   Sorry, Brothers!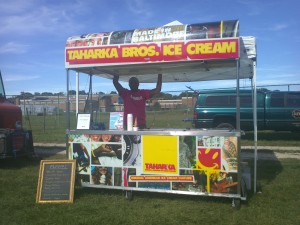 I had a nice chat with the Master Gardeners, and asked them about the grand old tree shading one end of the field.  They were able to identify it as a catalpa, a native tree with large panicles of flowers in the spring, now laden with long seed pods.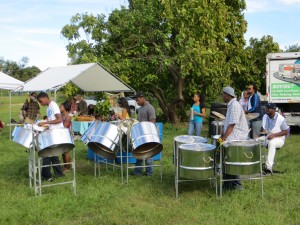 It made a nice backdrop for the steel drum band set up to entertain us!
************************************************
And there she was again at the press announcement event for the Baltimore Book Festival last Tuesday.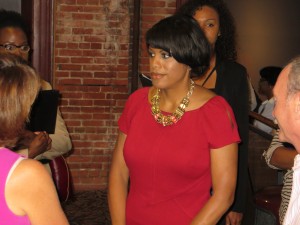 This book festival seems to grow larger every year.  This year, it's expanding geographically as well as increasing the number of events and authors.  To emphasize the former, and announce their new partnership, the press event was held at Center Stage.  The festival will expand down Calvert Street to meet the theater, which will hold Open House to celebrate its 50th anniversary.
The festival will have a large science fictional footprint this year, thanks to the Science Fiction and Fantasy Writers of America (SFWA), of which I am a proud member.  Many panels and readings will take place at the Science Fiction Stage.
I will be splitting my time between the SF and the Food For Thought stages.  Doron Petersan, who has been a demo chef at OFAM, will be there with her vegan cupcakes, just as she was at the press event – though she probably won't be giving the Mayor a lesson in decorating!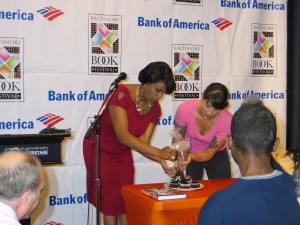 I had the good fortune to win a book by Steven Galloway, The Cellist of Sarajevo, so I will be looking to get it autographed; and I can't wait to hear Laura Lippman, one of my favorite mystery writers; and there are some great music programs and tours on offer; and the exhibitors will need to be seen, of course – it will be a heck of a weekend!