We had an errand to run in Chadds Ford, PA, southwest of Philadelphia, so we took the opportunity to eat in Hank's Place.  This used to be one of the places we stopped off on our way to Philly, when we were making regular trips to see my family, and then when our daughter was in school there.  Since we don't do that so much anymore, it was nice to go back and see that Hank's has hardly changed.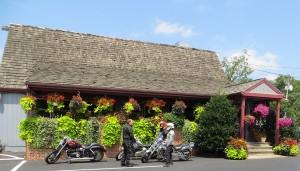 Hank's building is almost completely camouflaged with flowers.  My personal theory is that they feel the need to keep up appearances because they are just down the road from Longwood Gardens!
Inside, it has the classic diner configuration of a counter lined with stools with a short-order grill behind it, and tables down the other side.  One clue that it's a little bit more upscale than that?  The wine rack.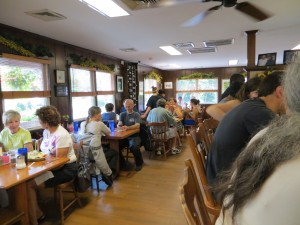 And, of course, the food.  In addition to grill fare, Greek specialties and breakfast all day, the specials include risotto, shrimp and crab salad, and apple jack brandy raisin sauce for the hickory smoked pork chops.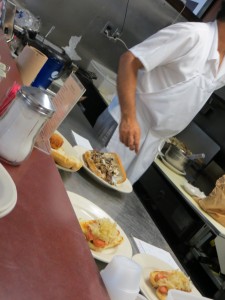 I ordered the cheesesteak in a burst of nostalgia, and Barry had a REAL chocolate milkshake with his crab cake sandwich.  They fixed mine just the way I like it, with mushrooms, onions and Provolone cheese.  My only quibble was with the roll, which was too soft; but it was as close to a Philly cheesesteak as I have had outside that town.  It was garnished with a ripe, in-season tomato slice.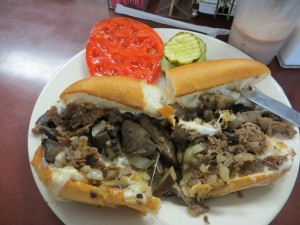 Then we went in search of Phillips Mushrooms' retail outlet.  This used to be right on Route 1, but that small store and Mushroom Museum closed years ago.  We found the new place WAY off the beaten track outside of Kennett Square.
Off the bypass, through the middle of town, down a country road (bear left at the fork), past the mushroom sheds, and turn into the driveway of a big, old farmhouse built in 1828.
The Woodlands at Phillips is named for the antique store which was run from this building for years by Linda Phillips-Steller's aunt.  She and her daughter, Meg Steller, greeted us and were delighted to give us a tour and sell us some mushrooms.  The house came into the Phillips family in 1890 as a wedding present.  It has been lovingly restored and now houses not only a store but a modern kitchen to hold cooking classes with local chefs (for schedule, email woodlandspa@gmail.com).  The frescoes in the hall were painted by a local artist.
On the porch overlooking a meadow, a clear cover shields the original 30-foot deep well, which still holds water.  Wrens nest on the exposed roof beams.  On the enclosed back stairway walls, the original paint technique has been preserved.
Along the way, I learned that Phillips is the largest grower of specialty mushrooms in the US.  It was founded in 1926 by Linda's grandfather.  She wasn't sure exactly how many different sites they have, but there are many! Enough to accommodate over 1 million square feet of growing space.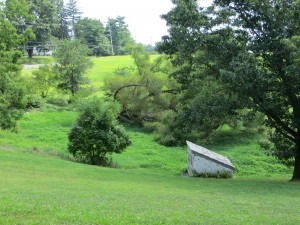 We bought crimini, portabellas, shiitake, oysters, and a type of puffball they call Pom-Pom.
Then we drove back into town to find the ice cream store we'd passed on the way to the mushrooms.  It had been recommended by two locals, and they had not been misleading us.
La Michoacána offers homemade ice cream in a rotating variety of mundane and exotic flavors.  Its perennial bestseller is corn (elote), with optional sprinkles of chile powder and/or cinnamon.  And no matter how outlandish that might sound, it's really good.  Their coffee and mango flavors are impressive, but their Nutella is amazing.  They also have paletas (Latin American-style ice pops), and other specialties.  All the signs are thoughtfully bilingual.  This store alone had us planning a return visit to Kennett Square.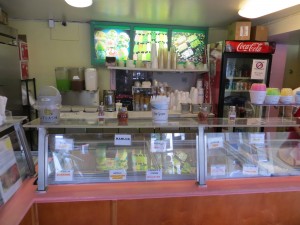 We noticed the town's devotion to food in two more details on State Street (the main West-bound route through town): The giant rooster outside the cafe, and the peppers planted smack in the center of the decorative planters lining the street.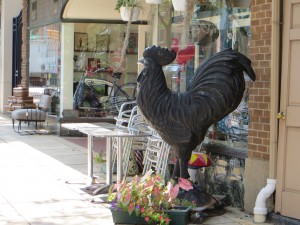 If we'd had time, we would have had dinner in the La Michoacána Grill down the street, but we had to go.  We promised ourselves we would return soon to the Mushroom Capital.