By coincidence (or maybe not), I attended two similar events within three weeks, each focusing on the local food movement.  I have already written about the Change Comes To Dinner panel and book signing at 6th & I Historic Synagogue.  There was also a panel discussing locally-sourced products in celebration of Eat Local First Week (July 15-21) at the Phillips Collection.  Unlike at 6th & I, however, this one also featured local food, drink and an audience of local food professionals.
First, the panel: Introduced by June Blanks of Penn Quarter Bodega and moderated by Pamela Hess, editor of Flavor Magazine, it featured Joel Salatin of Polyface Farms, Ann Yonkers of FreshFarm Markets, Jim Epstein of Blue Ridge Produce, Tommy Langford of Dawson's Market, Erin Johnson of Sandy Spring CSA, Matt Mulder of Arcadia, and David Winer of EatWellDC.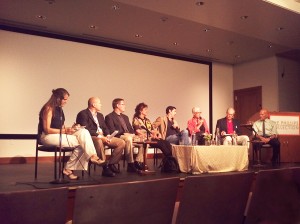 A wide-ranging discussion ensued, about bringing the message of the local food movement to restaurants, grocery stores, farms, CSAs, markets, and artisanal products.  Here are some of the excellent points made by the participants:
 A big problem with raising food locally is land abandonment, coupled with the aging of the farm population.  The price of land is a big factor near cities.  We need to interest and train youth to try out this profession.  Montgomery County's Agricultural Preserve is planning a training program to address this.
Regulations inhibit integration of food production into cities and suburbs.  Space requirements for keeping chickens, and negative attitudes of officials regarding schoolyard gardens are two examples.
We  are just beginning to realize the value of "terroir" in this country.  We must determine what grows best where and concentrate on maximizing that advantage.
Climate change is inevitable.  We must develop climate-resilient agriculture.
Small farmers must have a safety net.  There is no crop insurance available to them, as there is for agribusiness.
Small farmers must have an assured market for their specialty crops.  Relationships with restaurants, CSAs, bespoke distribution networks are ways to solve this problem.
Then, the proof of the pudding: a reception featuring products from Tryst, Local 16, Whipple Farms, Goûter, Copperfox Distillery, DC Brau, and Barboursville Vineyards.
Tryst is the restaurant at the Phillips.  The produced a very nice selection of three salads: mixed rice, green beans and peas, and a tomato and mozzarella salad.  They did a good job of filling the gaps in the menu of products offered by the artisans present.  I met Jocelyne DeHaas, billed as General Logistical Ubiquitous Executive (GLUE), at Tryst.  I guess she holds it all together!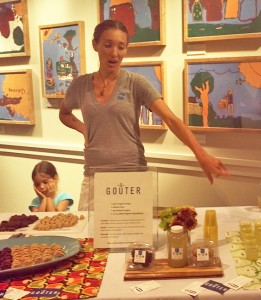 V of Goûter displayed her raw vegan products and tonics.  She had a (mostly) willing helper.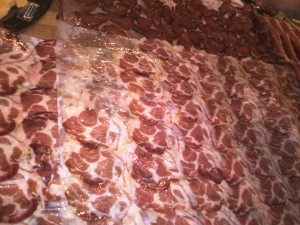 Local 16, lead by Edan Macquaid, brought a wonderful spread of their house-cured meats.  There was cappicola, lomo (pork loin cured with garlic and paprika), speck (smoked prosciutto), and braciola (beef cured with juniper and bay leaf); all delicious. 
There was a colorful and tasty display of local vegetables from Whipple Farms, including heirloom tomatoes.  I may have accounted for more than my share of these.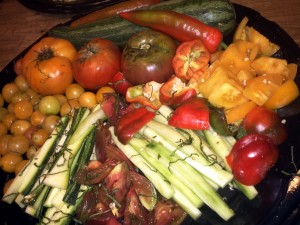 To drink, Jeff Hancock of DC Brau brought extremely fresh beer – he told me he had canned one variety just that morning.  (Is this a Good Thing?  I know nothing about beer.  I brought one home for my husband, who assured me it is.)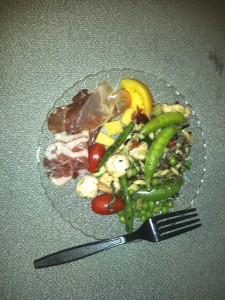 Likewise, Copperfox Distillery was offering tastes of single malt and rye whisky.  My samples effectively doubled my consumption of these spirits for the year.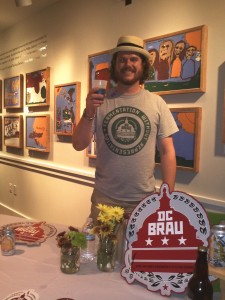 I was more partial to the offering of Barboursville Vineyards.  Luca Paschina offered a white wine selection from their award-winning vintages.  I learned from him that the vineyard not only produces wine, but hosts the world-class Palladio Restaurant and accommodates guests in their own inn.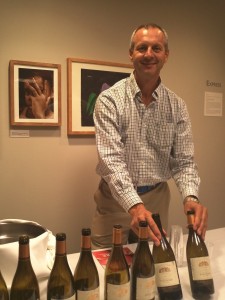 Mingling with the other attendees, I met Julie Sproesser, of the Restaurant Association of Metropolitan Washington.  These are the people who produce the Rammys, the annual restaurant awards for the Washington, DC region.  I was glad to know that the RAMW is aware of the advantages of the local sourcing of food for restaurants.
Pamela Hess  told me that she had willingly taken a pay cut to become editor of Flavor Magazine.  I'm so glad we still have Flavor to read, since Edible Chesapeake is no longer being published.  I do hope that Flavor will have more articles focused on Maryland in the future.
I also ran into Caroline Taylor of the Montgomery Countryside Alliance, working to promote policies in support of the Ag Reserve; Ype von Hengst of the Silver Diner (have you seen their menu full of locally-sourced food?), who promised to take a turn as a demo chef at OFAM, now scheduled for October 28; and Rebecca Layton Gunter of operation:eatery, who did a splendid job facilitating the Eat Local event.