We went down to the National Harbor Wine and Food Festival on Saturday.  In the past, the OFAM has had a table there, but not this year.  We were just there to crowd-watch, eat, drink, and be entertained by chefs.  All missions accomplished!
The Festival sets up on two long  piers and the surrounding area, so the water view is always a big part of the ambiance.  As an outside activity, the weather is also a big factor.  Saturday started out nice, but it clouded up and an intermittent drizzle moved in at about 3 p.m., just about the same time as I reached my strolling limit.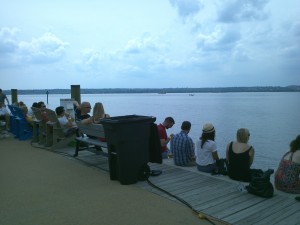 Here are some of the highlights:
A large area just opposite the entrance held the craft beer tent.  Many small breweries were offering samples of their products.  I don't generally care for beer, but some of them were sweeter and less hoppy than lager, which is often the only choice available.  Many also have a better sense of humor (note the tap head on the cooler.)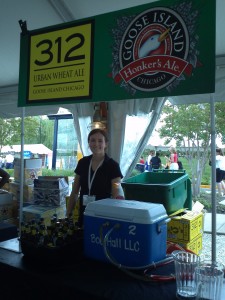 A lineup of food trucks signaled that the Festival was clued in to the latest food trend in DC – creative mobile culinary choices.  (Watch for the return of the Go Fish truck at OFAM Sunday mornings!)
There were many, many tables offering samples of food and wine.  One that stood out from the crowd was Kloby's Catering, of Laurel, MD.  You could find it by following your nose to their smoker and be rewarded by a portion of pulled pig.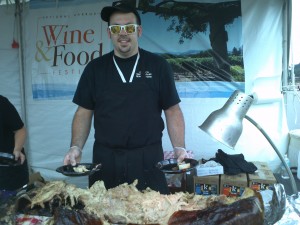 And one of the demonstration chefs was Doron Petersan, scheduled to appear at OFAM on July 8.  A star of Cupcake Wars and owner of Sticky Fingers Bakery in DC, she was an engaging and winsome personality.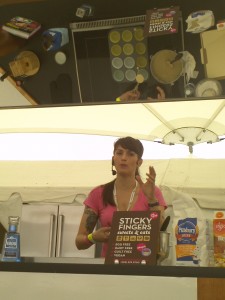 The cupcakes were delectable, and if I didn't know they were vegan I would never have guessed.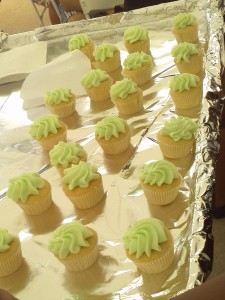 There was also live music, which I'm sure was fine, but I don't go to events like this to sit and listen to it.  And so, tired and happy (and slightly tipsy and very full), we wended our way home.