The exhibits at the Metropolitan Cooking & Entertaining Show represented a wonderland of indulgence.  Foodstuffs, accessories, gimmicks and gimcracks abounded.  Some stood out from the rest.
Walking up one row of vendors and down the next, I was immediately attracted to the display for Sal del Mar sea salt.  A large, colorful banner hung behind the table heaped with sacks decorated with hand-done embroidery, and attended by the friendly and enthusiastic Heather Towsley.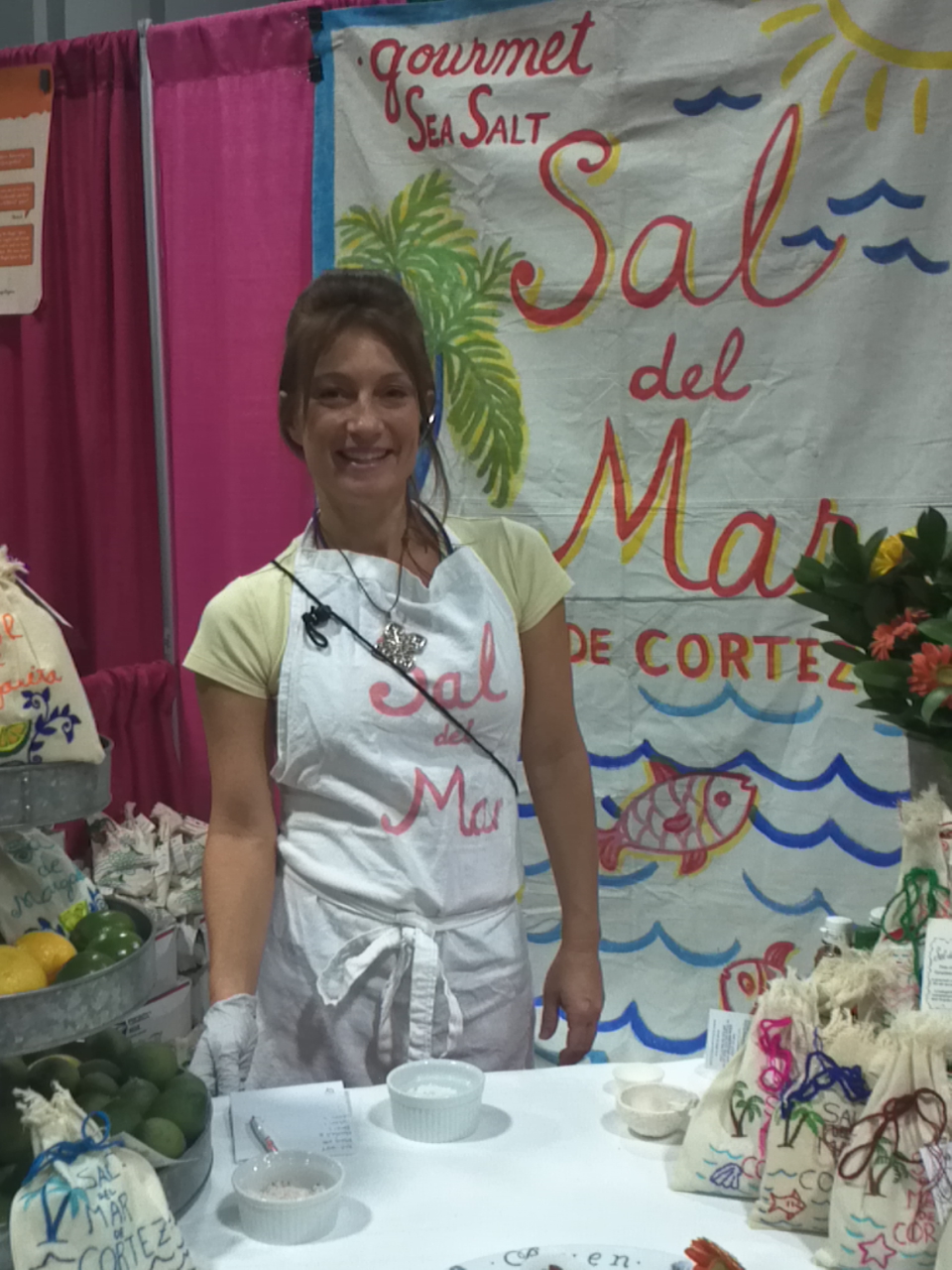 Now, I am a sucker for textiles.  One of my hobbies (besides cooking and eating) is quilting, and in my more honest moments I admit that quilting is only an excuse for collecting fabric.  So I was immediately fetched by the unique packaging on display.
Heather told me that women in the remote Mexican Sierra Madre village of Sabinito produce the sacks to eke out their household income.  These women are extending their long tradition of embroidery to a new market and simultaneously supporting their families with the unique designs decorating the salt sacks.
The variety of colors and whimsical designs add value to the premium product within.  Although working with sketches provided by the company's artist, the women add their own touches to each sack – thus, no two are alike.
Having such close relationships with their artisans allows the Sal del Mar people to arrange for the production of custom sack designs for wedding favors, restaurants etc.  This strikes me as a great idea for holiday gifts from food-related businesses.
The moist salt is harvested by hand from evaporation pools at the edge of the Sea of Cortez.  It is flaky, slightly grayish and delicious as a finishing salt or rimming a margarita glass. The Sal del Mar website has recipes for drinks and dishes that show this terrific salt off to best advantage, although a sprinkle on fresh field-ripened tomatoes is my idea of the best of all possible uses.