Many consider Rasika the best Indian restaurant in Washington, DC.  For years, the crispy spinach (palak chaat) dish has been the subject of constant requests for the recipe by patrons.  It has now been revealed, along with many others, in a new cookbook by Rasika's owner and chef.  They had help from David Hagedorn, a veteran local food writer.
In the introductory notes, Sunderam writes: "Above all, [Bajaj] and I wanted to present the recipes in a way that would inspire all cooks, including…those unfamiliar with, or perhaps daunted by, Indian cooking, to give it a go."  A laudable goal, but I'm afraid the book falls a little short.  Sumptuously produced and beautifully photographed as it is, the recipes are mostly a little bit intimidating for those not already familiar with Indian cookery.
It opens with a section of thirteen Basic Flavorings and Sauces.  Anyone intending to cook extensively from this book would be well advised to start by stockpiling a few or many of these, since most of the following recipes use one or more of them.  This approach keeps those recipes from containing endless lists of ingredients (and of course echoes a common restaurant prep strategy), but it also means that most of them fall victim to the stacked-recipe fallacy, which can be deflating for the cook looking for something involving a little less commitment.  Some – such as Pan-Seared Red Snapper with Shrimp Balchao – contain three levels of reference.  Also, there are many examples of dread Overleaf Fallacy, which I find far less forgivable.
So what's a reviewer looking for a recipe or two to try out, just to test how well they are written, without having to invest hours and dollars in a new cuisine, to do?  Well, I did manage to find a way or two in.  In fact, one recipe was possibly the tastiest version of butternut squash I have ever made (and I've made a LOT of squash!).
Butternut Squash Bharta is a variation of the traditional Indian Baingan (Eggplant) Bharta.  Should any ultra-traditionalist be shocked at this unorthodox variation, there is a footnote giving the procedure for making the dish with eggplant, if desired.  It only contains one level of reference, and that to the simplest of spice preps – Toasted Cumin Powder – which is just exactly what it sounds like.  It was accompanied by a detailed headnote about variations in moisture content and tenderness of squashes.  I just made one minor adjustment: I cut the prescribed amount of oil in half, from 6 tablespoons (a cheffy vestige in my opinion) to 3.  The result did not suffer.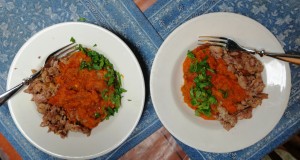 I also made Cauliflower and Peas with Cumin  (Jeera Gobi Mattar), as traditional an Indian dish as ever there was.  It was just OK, nothing special.  Possibly I should have used hotter peppers.  I have to confess that all the meat, fish and poultry dishes seemed to demand far too much commitment for this humble reviewer.
So, bottom line, the audience for this book is that segment of the Washington population that are fans of Rasika and Ashok Bajaj's other restaurants, and wish to duplicate those dishes at home.  It helps if they are already familiar with Indian cooking, or really, really want to be.  I think I'm going to stick with my collection of Madhur Jaffrey's books for go-to Indian dishes – except for that Squash Bharta.  That's in my repertoire to stay.
P.S.: A friend suggested that, as Indian grocery stores are filled with ready-made spice and sauce mixes, using these could be a big time-saver.  I myself (because this is the kind of casual Indian food I usually cook) have a packet of MDH brand "Baingan Bhartaa masala – Spice blend for roasted aubergine" in my pantry.  I wouldn't use it to review the book, of course, but attempting to match up the recipes in the book to the products in the store would be an interesting exercise.
Rasika: Flavors of India, Stories by Ashok Bajaj; Recipes by Vikram Sunderam; Coauthored by David Hagedorn, Harper Collins, New York, 2017.