Another terrific tour of the world's food and drink in New York!  Unfortunately, we could only stay for two days this year.  It was enough to get a smattering of the best goods on offer. Tunisia was the partner country for the 2016 show, and they were delighted to show us what great food (and other things) they produce.
At the opening press reception, we learned that Tunisia is second in the world in olive oil production, and the first in export quantity.  They have great chefs, too!
And they have exported at least one very tall person.  He is Salah Mejri, a basketball player, a member of the Dallas Mavericks.
He was introduced to great applause.  I guess if you follow basketball, you know who he is.
On the exhibit floor, the Italian pavilion was endless, as it is every year.  There was pasta being cooked,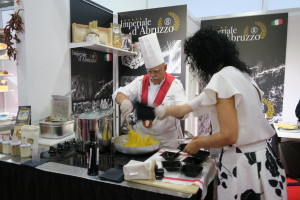 and seemingly falling from the sky.
Scotland's pavilion exhibited products from the sublime
to what a non-Scot might call ridiculous.
Honestly, haggis-flavored chips? But they made up for it with the excellent Thistly Cross brand hard cider.  The elderflower flavor is especially nice.
There was a chocolatier demonstrating his technique at Casa Luker
and Bob Moore of Bob's Red Mill was doing his thing, signing books and posing with fans.  Count me as one!
The Moroccan pavilion introduced a video feed of their chefs from a unique vantage point: top down.
Along with their delicious food, the tea server was there to dispense traditional hospitality.
And at the Urbani Truffles booth, the Italian cookbook author Francine Segan extolled a line of truffled sauces.  I was flattered that she remembered the last time we met.   The pasta dish was a little preview of the fabulous party cruise Urbani sponsored that night.  Stay tuned for my post on that!
Next: Part 2: Ham Obsession