If you could sum up Nora Pouillon in one word, would it be "stubborn?" She is known for her single-minded determination to run her professional and personal life the way she sees fit. How about "obsessed?" everything in her restaurant, down to the seasonings, must be as organic as she can make them.
No. It's unequivocally "European." From her reaction to the wretched state of available ingredients when she first moved to America in 1965, to her candid description of her florid personal life, her book reveals a psyche foreign to the good citizens of mid-century America (and possibly to those living here still today).
She did open the first completely organic restaurant in the US, in Washington, DC. In fact, she was instrumental in the establishment of certification standards for organic restaurants. But it was a gradual process, from her earliest awareness of how good simple food, cooked well, can be, to her education as a chef and restaurateur.
She describes herself as a "war child," born 18 months before VE day. Her Viennese family spend much of the war on a working farm. The bounty of those fields impressed her even at an early age. Later, she attended a French school which served three-course lunches to all the students. These meals, not the coursework, are her clearest memories of school!
A meeting with a dashing but married Frenchman, Pierre Pouillon, lead to a romantic courtship and marriage – before Pierre was divorced from his first wife. But his papers came through just before they left for Washington, and Pierre's new job at a radio station.
Despite the appalling lack of fresh vegetables in Washington, Nora started cooking for small dinner parties as a way of reciprocating the invitations from their friends. She relied on books like Elizabeth David's excellent series for the most part, along with one short course on Asian food. When it became clear that they couldn't make ends meet on Pierre's salary, Nora decided to try offering classes herself – and so her career in food began.
It was about this time she discovered that Pierre was having an affair with their au pair. Although Nora was aware that he had been sleeping around during the course of their marriage, she had tolerated his behavior (how European!) for the sake of stability and their two sons. The au pair, however, was too much. In retaliation, she deliberately set out to seduce her contractor. From then on, she and Pierre led separate but conjoined lives. Even when Nora eventually moved out of the house, they never actually divorced.
Her first professional job, running the restaurant in the Tabard Inn, led to her second long-term relationship and business partner for Restaurant Nora. Together with Steven Damato, Nora formed the "additive-free" philosophy she was to evolve into organic cuisine, and carry on through many dreams, enterprises (remember City Cafe and Asia Nora?) and years. But, after many years and two children together, Steven fell in love with their daughter's piano teacher, and he and Nora split.
Now, as Nora writes, "I am a mature European woman…I have my mission, my passion, my friends, and my children, who are following in my footsteps in their own ways." And acknowledgment as one of the doyennes of the organic movement in the United States. Not a bad place to find oneself.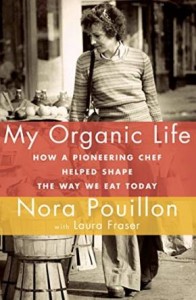 My Organic Life by Nora Pouillon, with Laura Fraser, Knopf, New York, 2015