This year's Saturday Night Sips was held once again at the Newseum, and it once again featured an array of creative cocktails, nibbles from the area's trendy restaurants, and artisanal, handcrafted food by hopeful, entrepreneurial purveyors.    Some new features: a food truck was represented, along with a regional winery, a brewery, and a dessert spread.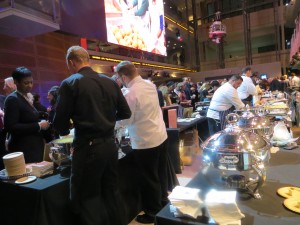 And, a brief, magical appearance by Carla Hall!  She had just stopped by on her way to somewhere else, but took time to pose with some of the kitchen staff.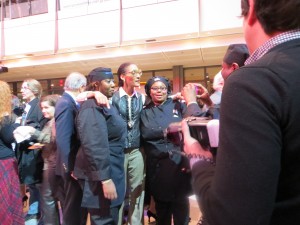 Although local celebrity chef Jose Andres was absent this year, Joan Nathan and Alice Waters were both there, mingling with the crowd.  It wasn't easy getting a clear shot of Alice – everybody wanted one!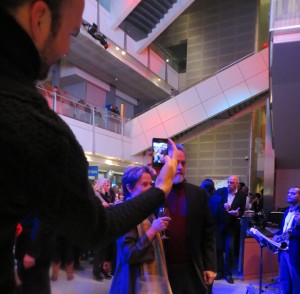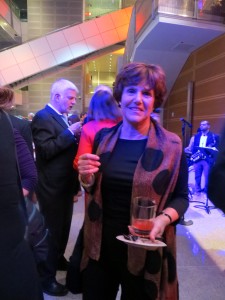 A long table of mixologists greeted guests with their specialty cocktails.  Drink secured, one is free to visit the chef stations and try each excellent morsel.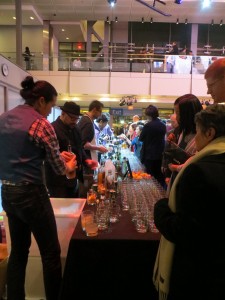 Some of the outstanding tables were manned by Will Artley of Pizzeria Orso, offering lobster tacos; Michael Costa of Zaytinya with an interesting spin on stuffed leaves – not grape or cabbage, but kale.   "Kale's in season, and delicious," he claimed, and so it was, stuffed with chestnuts, basmati rice, and currents, and served with cumin yogurt.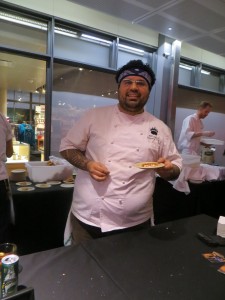 The CapMac food truck people were dispensing meatballs.  They assured me that "balls out" and "sloppy" refers to their two specialty styles of mac and cheese.  The chicken parm meatballs are another specialty, and delicious.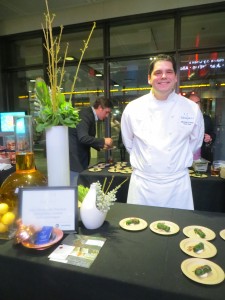 Waiting in line for the sushi made me too late for the oysters.  Not enough oysters!!  What were they thinking?  But the sushi was excellent, hand rolls with cured salmon, flavored miso, and (in a burst of fusion), Asian pico de gallo, made to order by the chef of SEI.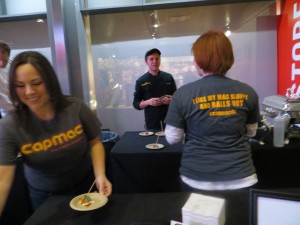 Upstairs, Wagshal's was dispensing bites of Fermin's Iberico de Bellota Jamon, a rarefied imported ham.
From the mezzanine, there was a fine view of the news helicopter.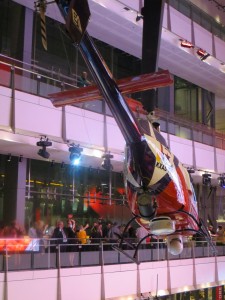 Joan and Alice spoke on behalf of the two charities which benefit from this event.  DC Central Kitchen and Martha's Table both contribute immensely to the well-being of our community not only through providing meals to the homeless and seniors, but also through providing training in culinary jobs.  How appropriate that all these terrific restaurants and food service folks get together to help their programs go forward!