Just as my favorite part of the media event for the Julia's Kitchen re-opening back in August was meeting Julia's niece, Philadelphia Cousins, the best thing about this exhibit's event was meeting and chatting with several of the object donors.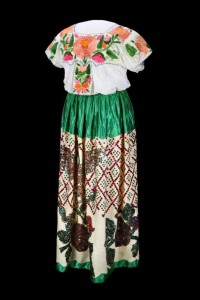 Two members of the Cuellar family, John Cuellar and Carmen Cuellar Summers, were there.  They are  descendants of the founders of the El Chico chain of Tex-Mex restaurants, and were glad to tell me all about the wonderful sequin-spangled dress on display.  Worn by "Miss El Chico" for food demonstrations, promotions, parades, and the Texas State fair, it has traditional embroidery as well as the shiny embellishments.  It's an example of a China Poblana-style native festival dress from Puebla, made about 1960.
Margrit Biever Mondavi was there to regale me with stories of her life helping to build Robert Mondavi Winery into the one of premier establishments in Napa Valley.  She told me that the reason there are palm trees in Southern California is that, during Prohibition, they were a sign that wine could be bought underneath!
She came from Switzerland in the 1960's as a young girl and got her start in the wine industry giving tours for Charles Krug.  Her husband Robert was determined to develop California wines into a force to challenge the best of Europe, starting with the fume blanc.  In his hands, it became a crisp, dry white meant to go well with food.
As the winery became successful, Margrit developed the Summer Music Festival.  Although they were not advertised, the concerts always sold out.  Other concert series followed.  Then there was the Great Chefs Cooking School.  The Mondavis built an art collection, travelled, ate, drank and hobnobbed with chefs and artists the world over, all the while building the reputation of California wine.  With the help of Janet Fletcher, she has documented it all in a lovely book.
Margrit Mondavi's Sketchbook is a beautifully produced memoir of a life lived to its fullest.  Illustrated with photographs and her own watercolors, it presents a picture of her appreciation of food, wine, friendship, and family.  In her own words and in short " reminiscences" by such luminaries as Wayne Thiebaud and Jean-Georges Vongerichten, as well as family members and wine industry colleagues, it presents a picture of a life well-lived, with (lagniappe!) recipes.  I look forward to cooking her Braised Rabbit in Wine Sauce, and Mont Blanc with Strawberries for dessert!