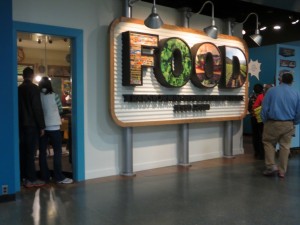 (and this is NOT a joke!) when you see the stuff of your childhood behind glass at the Smithsonian National Museum of American History FOOD Exhibit, for which Julia Child's kitchen is now the centerpiece.  Granted, it is subtitled "Transforming the American Table 1950-2000," so I should have been prepared, but still –  a Swanson's TV dinner tray? A Corning Ware casserole? Tiki cups?  Aluminum tumblers? All could have come straight from my mother's house.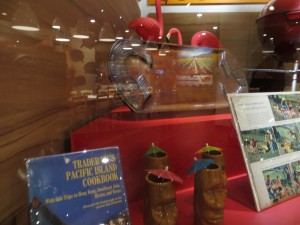 Worse yet, Stalking the Wild Asparagus, Moosewood Cookbook, and the Time-Life Foods of the World series.  Bought new, these are all still in my collection! And a fondue pot, of which I received three as wedding presents.  I could go on, but you get the idea.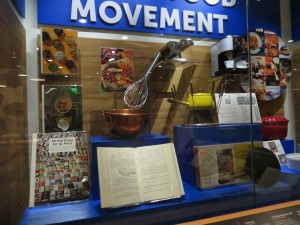 The exhibit traces the evolution of the American palate from the postwar reliance on convenience food and bland commercial products to the threshold of our present happy state of eclectic experiment.    It brought back memories of my childhood, and not all in a good way – my mother totally bought in to the "cooking is so hard, use our instant products and canned vegetables" line.  The section titled "New and Improved" explored the forces behind her choices: the growth of agribusiness, manufactured foods, supermarkets and their distribution systems, microwave cooking (including a microwave oven from 1955 the size of a washing machine), and availability of cheap junk food.  One of the stranger curatorial choices: showcasing a selection of plastic coffee cup lids.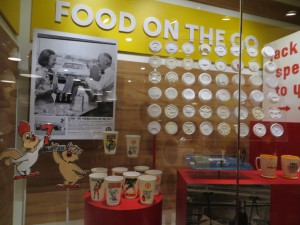 I asked Cory Bernat, the curator of the plastic lids, where they came from.  She assured me that there are "collectors for everything," including the lids and Weber kettles, like the cherry-red kettle in the exhibit.  I believe her.
Another section, "Resetting the Table," explores sociological forces, including the influence of immigration, the counterculture, and the "good food" movement (including Alice Waters' continued influence), which will – if we're lucky –  carry our country's food evolution into the future.
The third major section covers the rise of the American wine industry, with a major emphasis on California.  "Wine for the Table" features, among the array of winemaker's tools and other artifacts, the two bottles of California wine that won the 1976 Paris Tasting, triumphing over all French entries and announcing the arrival of serious American competition for the European wine industry.  The rest, as they say in the museum trade, is history.