Future Harvest CASA is an admirable organization dedicated to sustainable farming in the Chesapeake region.  They have a yearly conference that's a great opportunity to learn about and network with farmers, restaurateurs, and allied folks concerned with the health of our food-production ecosystem here in the mid-Atlantic.  Although I was aware of their other programs, I hadn't participated in many of them; but a few weeks ago, I got a notice of an event that I couldn't resist.
It was billed as a Field Day and organized primarily for the benefit of members of their Beginner Farmer Training Program.  We snagged two of the 10 spaces available for non-farmers.  Here is what they promised would happen:
Noted farm-to-table chef/restaurateur Spike Gjerde will take us behind the scenes at Woodberry Kitchen. At Woodberry Kitchen, not only do fresh ingredients star on each day's menu, the kitchen excels at preserving seasonal ingredients in-house for future use. Chef Gjerde will talk about what chefs need from local farmers to make sourcing relationships work and show us what happens to our lovingly raised farm products once we leave them at the restaurant door.  Lite fare included.
And we were not disappointed.  We gathered in the restaurant and enjoyed freshly-made iced tea while we waited for the group to gather.  Then we toured the extensive kitchens, storage and prep areas while learning how Chef Spike utilizes the locally-sourced ingredients arriving at his establishment.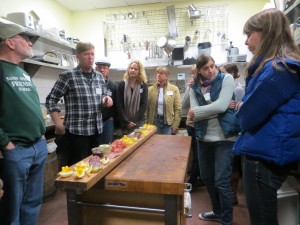 We started in this prep room, where Spike explained his philosophy of establishing partnerships with producers and butchering whole animals in the restaurant.  He has a special interest in Mid-Atlantic heirloom vegetables, and partners with at least 70 farmers in the Chesapeake region.  We were salivating over the plank full of tasty morsels, but were led away from it to the other areas of the kitchens.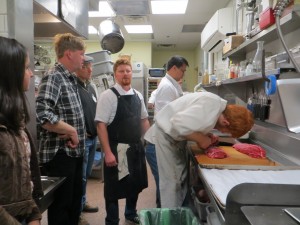 George, the butcher, explained nose-to-tail butchery.  His crew breaks down large cuts – cooks some, cures others.  The aging room is full of house-cured cold cuts.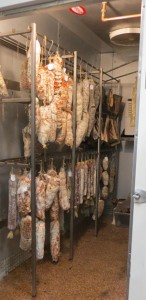 We moved on to the baking area, where we met Isaiah.  He makes bread and other baked goods for the restaurant and the recently-opened cafe (Artifact Coffee).   Also, house-made spelt noodles.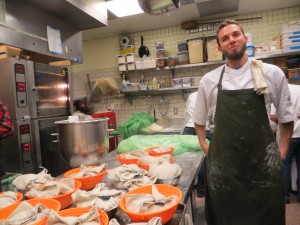 Spike does not have a candlestick-maker (yet!) but he does have a large pantry with shelves full of preserved fruit and vegetables.  He explained that a restaurant which is committed to locavor-ism in our climate needs to solve a problem: how to find local produce in the winter?  Woodberry Kitchen is addressing this by putting food by.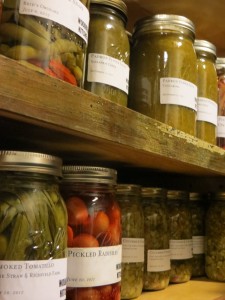 We passed other areas, including fresh fruit and vegetable storage, a wine cooler and a storeroom piled with sacks of flour and grain.
We returned to the dining room we had started from, to find that the goody-laden plank had been magically transported to the middle of our table.  House-cured meats, house-made crackers, local cheeses, fresh and pickled vegetables, dips, and deviled eggs, supplemented by flatbreads from the wood-fired oven and iced tea, were sampled while we continued the discussion of supply and utilization of the most excellent products of our region.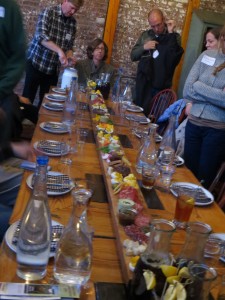 Woodberry Kitchen is an example of how a secure source can encourage small farmers to succeed in our era of agribusiness.  Here's to its continued prosperity!