Traveling for business often does not allow much time for sightseeing.  The day is taken up by meetings, so eating dinner out is sometimes the greatest exposure to the local culture my colleagues and I can manage.   On this trip, we had several memorable evening meals.
I found the food in the restaurants we visited to be meat- and starch-heavy, with some dishes almost always on the menu: for appetizers, a variety of dumplings, marinated vegetable salads, fried cheese, and sausage; a lot of pork, less fish and chicken, with beef dishes always double the price of any other meat; beer plentiful, wine mostly good but not great (but then, we didn't order really expensive wine.  Most of my colleagues appreciated the excellent and cheap beer).
As for me, I discovered to my delight that flavored vodka is widely available and rewards a spirit of curiosity.  One restaurant we patronized, Starka, boasted of their homemade vodka flavors.  We decided to hold them to their word.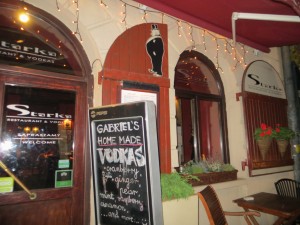 Here is the complete list of vodka flavors I tried on this trip: Hazelnut, Hot Pepper, Rowan Berry, Ginger, Apricot, Honey-and-Herbs, Cherry, Pear, Walnut, Rosemary, Cinnamon, Raspberry, and Honey.  With the exception of Raspberry, which was far too sweet, they were all good.  Hazelnut, Rowan Berry, and Honey-and-Herbs were outstanding.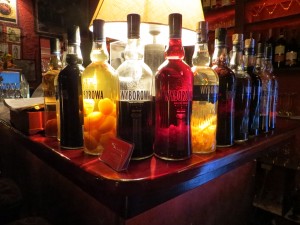 Another dinner, at C.K. Browar, a cavernous brewpub under the Old City of Krakow, was remarkable for the unfiltered beer served in tubes.  A table can order a 3.5  or 5  liter tube filled with unpasteurized beer straight out of the brewing tanks.  I had some too.  It was not bad for beer.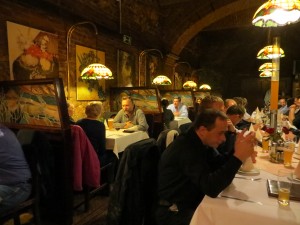 I got pork ribs, which came with two side dishes.  These arrived as two bowls of very good creamed spinach and beets (described as "fried" on the menu, they were shredded and sautéed.)  Together with my appetizer of fried goat cheese with bacon, cranberry sauce and horseradish "mousse," which I split with a fellow diner, it was far more than I could finish.
And if I thought that that meal was over the top, I hadn't seen nothin' yet.  Our Polish hosts sponsored a dinner the next night which was held at Morskie Oko, a restaurant which boasts on its business card of having "live folk Polish music" as well as "delicious Polish regional cuisine."  We were treated to a sumptuous meal served family-style, as well as a show of musicians, singers, and dancers in colorful folk costumes – but that's another post!