Alice Waters gave the keynote address at the Natural Products Expo East.  She is an inspirational speaker, and the audience was there to be inspired!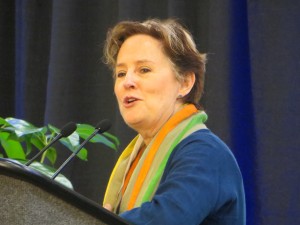 The young people in the chef's whites are students at Stratford University's culinary school.  They, along with the rest of us, listened raptly as Ms. Waters spoke of the threat posed by "the fast-food paradigm that surrounds us all."
She went on to say that the fast-food culture values efficiency, availability and cheapness over the more human and humane virtues of ripeness, beauty, patience, and community – "things that make our lives meaningful."  The cost of cheap food will come back to haunt us through effects on the environment or individual health.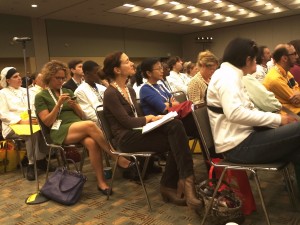 Governments can muddy the issue by refusing to define standards, or having poor regulation of terms such as "sustainable" and "grass-fed."  The EU is misusing standards to remove uniqueness from traditional, regional products.
She founded Chez Panisse, her seminal restaurant in Berkeley, in an attempt to capture the way of life she was exposed to in France, with two-hour lunches in which entire families participated.  Other values were incremental and initiated by her employees, such as the pastry chef who saved and reused every scrap.  With her current passions, the Edible Schoolyard Project and the Delicious Revolution, she hopes to see every school become the center of a network of suppliers, composters, and healthy food proponents.  Schools can become economic engines for communities, and teach children to embrace human values.
She concluded with a call to arms:  "We're still the counter culture!  Don't be co-opted!  Don't compromise with the fast-food nation!"  Everyone in the audience heartily agreed.
Several of the products at the Expo seemed to epitomize Ms. Waters' philosophy.  The Montana pavilion highlighted their grain products, including farro, an ancient European grain being organically raised on the Great Plains by the Timeless Natural Food company.  When I mentioned my interest in this newly-popular ingredient, David Oien gave me a package to try.  I will be comparing it to the Italian product I received from the importer Italian Products USA at the Fancy Food Show. (Click on the "farro" tag to find that article.)
Many  new products were being touted at the show.  One line being launched was particularly intriguing.  Blue Buddha herbal teas were available in four flavors, each promising aspects of enlightenment for those who imbibe.  I'm not sure I attained the next level of consciousness after trying them, but I did heartily approve of the flavor profiles of the teas on offer for tasting: fruity, not too sweet, and very adequately thirst-quenching.  I think the "Hibiscus Raspberry Revitalizing" flavor was my favorite.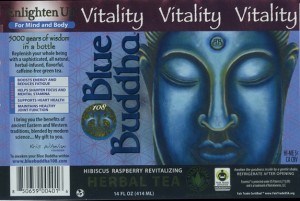 And if drinking it improves my health and/or relationship to the universe, so much the better!