Chef John Melfi of the Blue Duck Tavern at the Park Hyatt and his sous chef Michael did a star turn at the Olney Farmers and Artists Market last Sunday.  They chose to prepare Watermelon Gazpacho, even though they had been warned that a chef last month had prepared that very dish.
They were justified in their confidence that their recipe would not be redundant.  I believe that their garnishes allowed it to stand on its own, and I think everyone who sampled it agreed.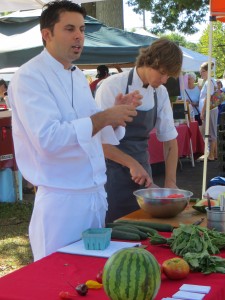 One of the garnishes consisted of small balls cut from the sides of cucumbers with a tiny melon baller.  Others, previously prepared, were cubes of yellow and red watermelon infused with simple syrup.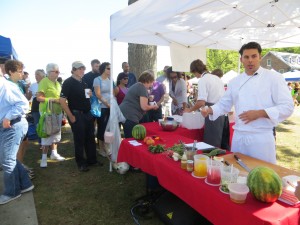 Chef John explained that the restaurant prepares them 'sous vide,' so that the sugar penetrates the melon but doesn't cloy – it just make the melon taste like a much sweeter fruit than it naturally is.  Another garnish, house-made watermelon pickle, provided yet another complementary variation on the theme.
Chef John and Michael took a little tour of the Market in search of ingredients to add to their demo, as we encourage all our chefs to do.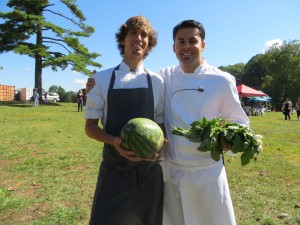 They asked if we had any hot peppers.  Well, as a matter of fact –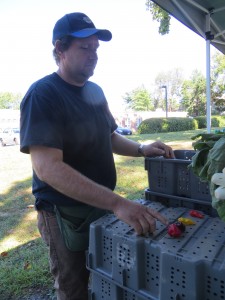 Mike at Homestead Farms takes great pride in his range and variety of hot peppers.  He set them out in the order of their hotness.  They ranged from Jamaican Red at 150,000 Scoville units to tiny but deadly Ghost peppers at over 1,000,000 Scoville units! (Scoville units are the measure of a pepper's hotness.  For comparison, Jalapeno peppers measure a mere 1,500 Scoville units.)
Our intrepid guest chefs took the challenge.  Each tasted a tiny piece of the ghost pepper.  Chef John's reaction?   "I think my head just exploded!"  Michael was speechless.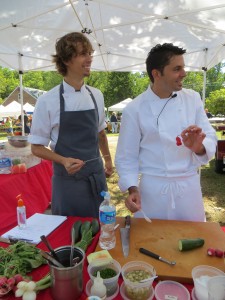 They did, however, live through the experience.  I'm glad they did, because I hope to invite them back for an appearance next season!
And a big Thank You to the farmers who contributed produce to the demo last week: Pleitez, Westmoreland, Valle, and of course Homestead.