In the Italian Pavilion, there were Parmesan cheese and prosciutto in abbondanza.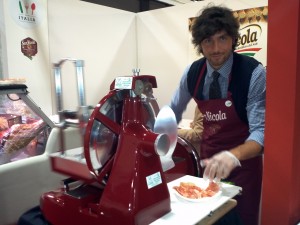 There was a very engaging young Italian slicing a leg of prosciutto.  I lost track of the number of  cheese wheels and hams being displayed and sampled, but suffice it to say that I spent a lot of time on that part of the floor.  The olive products (oil and cured), baked goods, pasta, wine, and other products were truly overwhelming.
The region of Apulia was featured in the demonstration kitchen.  I sat in on a session with Chef Domenico Maggi, and watched as he created a three-course lunch of five dishes (not counting the olives and pickled vegetables on the table, just in case we were starving) and then sampled it all.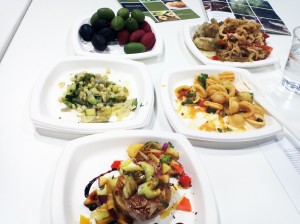 Looking at the menu, I realized that Chef Domenico would cook this meal 4 times that day, and had cooked other multi-course meals 4 times each during the other two days of the show; yet he remained cheerful and willing to answer questions about the food and other attractions of his home region.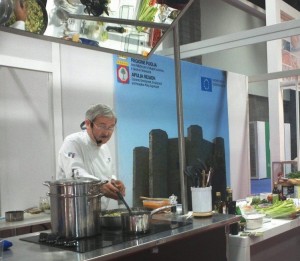 I learned that Apulia forms the heel of the Italian boot. It contains 60 million olive trees (or 10 for each citizen).  Some are thousands of years old.  It should therefore not be surprising that Apulia produces 40% of Italy's olive oil; and the cuisine, at least as produced by Chef Domenico, is delicious!
Down the aisle from the kitchen I saw a display of farro.  As I was anxious to try this grain which has become very popular recently, Ursula Castor, the representative for the importer Italian Products USA, agreed to send me some to try.  She sent a vacuum-packed kilo.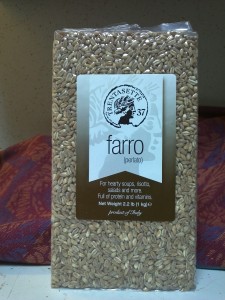 Farro is a form of wheat reputed to be relatively high in protein and low in gluten.  It can be cooked like risotto or boiled in a large quantity of water like pasta.  When it's done, it still has some "bite" to it and an agreeably nutty taste.  I found a recipe for Farro with Mushrooms, Balsamic Vinegar and Thyme on Italian Products' website: http://www.italian-products.com/recipes.
We agreed that it was delicious.  I wasn't sure how much farro would expand in cooking, so I halved the recipe quantity (serves 4-6), as I was cooking for just the two of us.  One and one-half cups of farro made enough for two people to have this dish for dinner and lunch the next day. It was excellent cold, as well as hot!