This is how we spent the day in Crisfield while waiting for the Crab & Cruise.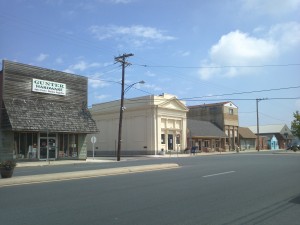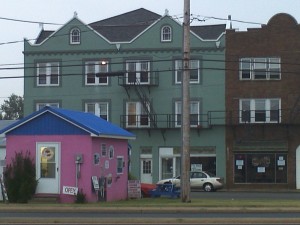 We were tempted to take a cruise to Tangier or Smith Island (where the cake comes from), but decided to stay on the mainland.  We ambled down Main Street to the Somerset County Tourism Office, where we stocked up on brochures and advice from the nice gentleman in charge.  He advised us to start by leaving the office by the back door and proceeding across the parking lot to the J. Millard Tawes Historical Museum, so we did.
There were exhibits about both crabbing and oystering, as well as decoy carving and other industries.  I was amused to see that the "Keys to the City" of Crisfield consisted of a crossed oyster "stabber" and crab knife.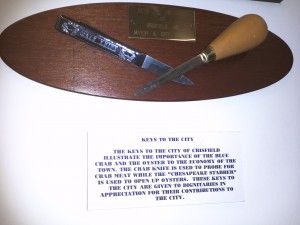 A display of empty cans from old shucking houses was a poignant reminder of the decline of this once abundant resource.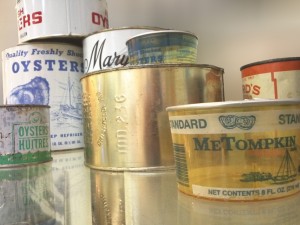 After we finished with the museum, we walked around the Marina awhile until it got toward lunchtime.  We had asked in the museum if there was a place we could eat on the water, and the local girl behind the bookstore desk pointed out the door to a large, unpromising-looking green building on the other (yes, the third) side of the parking lot, and said, "That's the only place in town with waterside seating.  Don't worry, it's got really good food."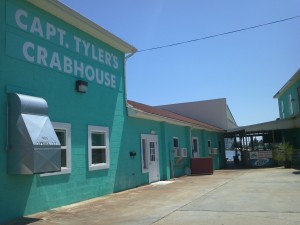 So we walked over.  On the other side of the building was a shady deck with picnic tables, ceiling fans providing a cooling breeze, and sure enough, it was right on the water.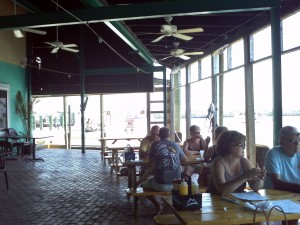 Our hostess was related to the eponymous Capt Tyler.  She assured us that the crabs were very fresh, and we got a chance to see that for ourselves when Miss Betty moored next to the deck and unloaded a few bushel baskets full of crabs.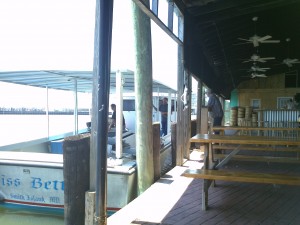 We were assured, however, that if we waited a few minutes, a buy boat would pull up to the wholesale business next door and unload many bushels of crabs.  We had finished a light lunch (excellent crab soup and an ear of corn for me), but decided to wait.
We were not disappointed!  The buy boat was low in the water with crabs.  No one minded if a couple of outlanders hung around while she was unloaded.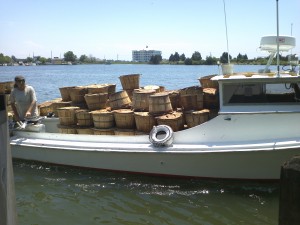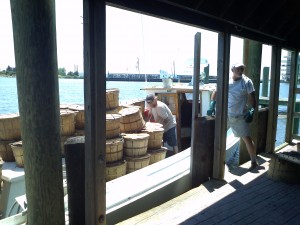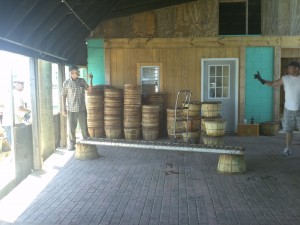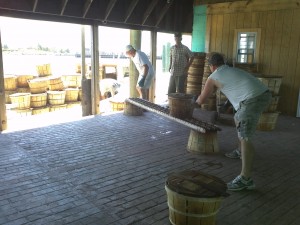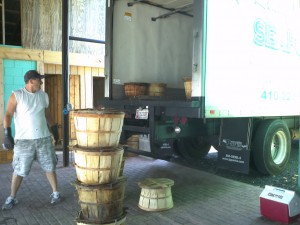 The crabs went from the boat to the truck.  "They'll be in New York by morning," said the truck driver.  Mace McGrath posed for me with a bushel of crabs.  When I took a picture of a bushel basket lid with a label and a desperado, he gave me another label.   He couldn't say why only this one has Chinese on it, though.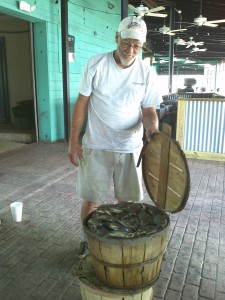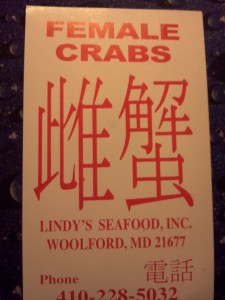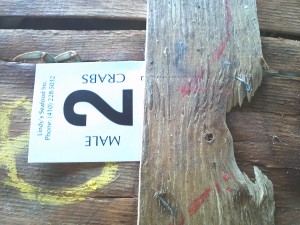 After that, we drove around Crisfield and out to James Island State Park.  On the way, we saw wild turkeys and some free enterprise.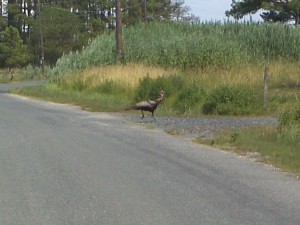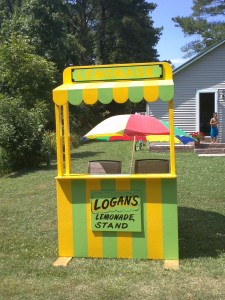 Then we drove back to Crisfield and ate lots of crabs!