Bethesda is full of restaurants.  The whole DMV would seem to be saturated with fast-food burrito joints (even near my house in the wilds of upper Montgomery, there's a Cal Tort), so do we need yet another?  And an interloper from Boston, at that?
That was my question when the invite came to attend the opening of the first Boloco outside of New England on Tuesday.  I decided to see if I could get a reasonable answer.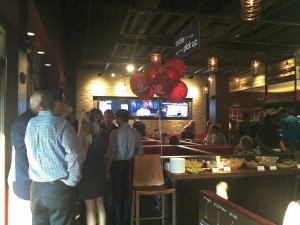 My first hint that Boloco stood out from the crowd was in the restroom.  The wall was lined with murals of places around Boston.  A sign on the wall explained that the painter, Sean Boyce, was commissioned by the founder of Boloco to paint the neighborhood of each branch as they opened.  He also painted two scenes of Bethesda, which are displayed in the ordering area.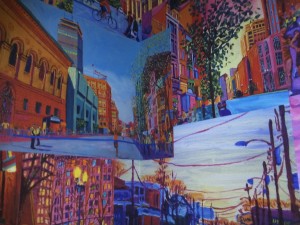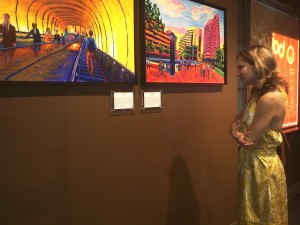 I talked to John Pepper, co-founder and CEO of Boloco (which is a contraction of Boston Local Company), and learned some more: they strive to be socially responsible on many levels.  They are certified green (first thing: ditch Styrofoam); they pay employees the highest salaries in the industry; they are committed to having options for all dietary restrictions and preferences – such as having "mini"  and "small" sizes for burritos and drinks, with calorie counts available on-line.  They consider themselves part of any community they open in, and participate with enthusiasm (in support of that, I noticed a blackboard community event calendar in the store).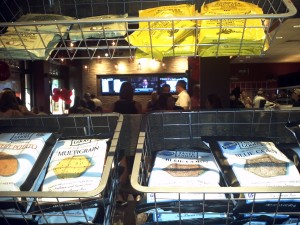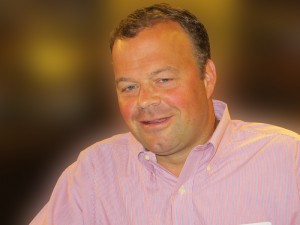 But enough of the preliminaries, let's get to the most important thing:  how does the food taste?  There are many choices beyond the traditional Mexican-style burrito, and we got to taste several of them, in the form of passed halves of mini-sized wraps.  The Buffalo was very tasty.  The Classic Mexican with steak was also good, though the Tikka Masala with tofu was too bland.  On the other hand, the Cajun was a touch spicy for me, but could be the best if you roll that way.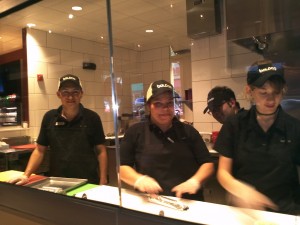 There were bowls of sides to try.  There were terrific mango salsa and guacamole, and the corn salsa had a bright, fresh flavor.  Samples of drinks proved deadly to the diet for this reviewer – the Nutella milkshake could be my next guilty pleasure.  But for pleasure without guilt, there is also a dynamite mango passion smoothie made with frozen yoghurt.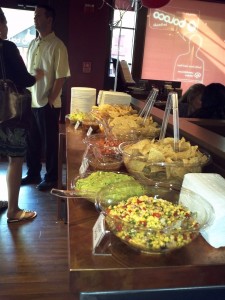 So to answer my own question, Boloco's addition to the local burrito scene is thoroughly justified.  Welcome!