Last month, we were kindly invited to a two-day celebration of Maryland seafood hosted by Greg Cain, proprietor of The Crab Place, a restaurant and seafood shipping business in Crisfield.  I had never been to Crisfield despite living in Maryland for 39 years and accounting for my share of the delicious products of Bay and ocean, so we took this opportunity to rectify that situation.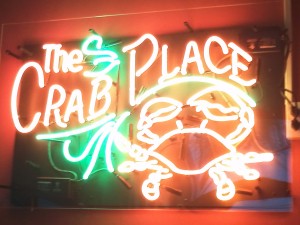 Greg told us that the shipping business has been established for 15 years, but the restaurant is only two years old.  The Crab & Cruise event is well on its way to becoming a tradition, attracting people from all over the U.S. and a few from abroad.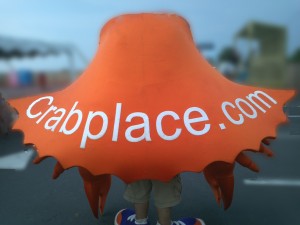 On Friday night, a seafood dinner was served under a huge tent set up next to the restaurant.  The seafood paella was cooked on the spot by Chef Max Hardy and several assistants.  It was excellent – clams, mussels, and jumbo shrimp nicely set off with sausage and vegetables in a spicy broth, served over rice.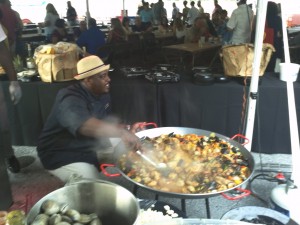 Chef Max had come from Miami to cater this event.  For those who may not have cared for paella (I can't imagine who), there were fish tacos featuring fried grouper.
Large filets of grouper were deep fried and garnished with a creamy sauce and piquant salsa.  Of course, one could have some of each.  Of course, I did.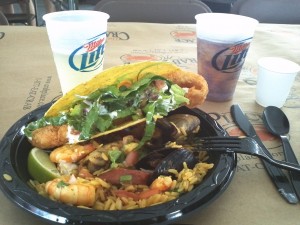 Beer and wine were available, and also some excellent vodka cocktails sponsored by Van Gogh Vodka.  For dessert, a local specialty: Smith Island cake.  After dinner, a band played for dancing in the parking lot until midnight.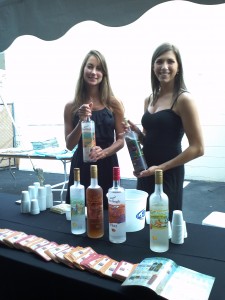 On Saturday afternoon, we returned to The Crab Place tent for a grand crab feast.  All the steamed crabs we could eat, plus steamed clams, fried clam strips, corn-on-the-cob, hush puppies, coleslaw, french fries, meatballs, and chicken wings.  Beer, of course, and soft drinks to wash down the food.  Oh, and more Smith Island cake for anyone with enough room left for it.
This cake has been designated as the official dessert of the state of Maryland.  It dates back to the 19th Century, developed by watermen's wives on tiny Smith Island, which is accessible from the mainland only by passenger ferry.  From 8 to 15 thin layers of cake are stacked, separated by icing, then the finished cake is frosted.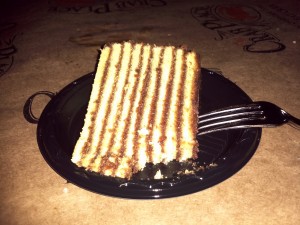 I wish we had been able to go on the sunset cruise which followed, but we had to return home right after the crab feast, to get up early Sunday morning for the farmer's market.  I hope next year we can make arrangements to stay over in Crisfield so as not to miss a minute of this event!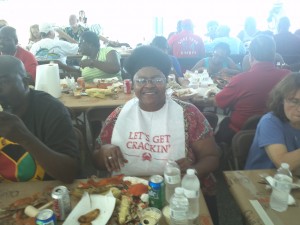 Coming: What we did in between the eating – Saturday in Crisfield.