The fourth and last (I promise!) entry about the EU Embassy Open House on May 12, 2012.
As our last embassy, we arrived at Slovenia.  Sometimes the small embassies are the most enthusiastic about welcoming folks and showing them a good time, and we found it to be true in the former mansion on California Street.
In one big room, the smallest space of all the embassies that we visited, they had crammed live music, dancing, a wine tasting table, tourist information, Slovenians in native costumes, food displays, a separate food demo table, and just a little room for circulation.  Luckily, it was beautiful weather to enjoy their nice wide deck.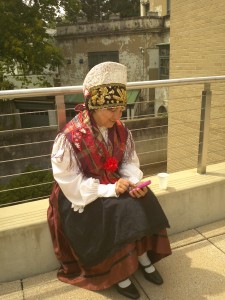 Alas, we got there too late for the wine, but there was still some surprisingly tasty pumpkinseed oil.  A very dark color, it looked unpromising but was really very good.  The handouts claim that it can be used medicinally as well as with cheese, over ice cream (I imagine its effect would be similar to real, aged balsamic vinegar), and on salads and other dishes.  It would be a superb finishing oil, if only it were more widely available.
The Slovenians had actually published a schedule of food demonstrations on their website, so we tried to time our visit to catch at least one of them.  (It was a good thing that we had saved Slovenia for last, we realized, because we may not have ever left.  The food demos were scheduled from 10:30 right thru to 4:00 p.m.)  They were running a little late, so we were in time to catch the potica demonstration.
No, I didn't know what it was either, so I'll tell you: potica  (pronounced Po-teet-sa) is pastry rolled out thin and filled with a rich mixture of nuts, butter, cream, honey, sugar, and sometimes raisins. Rolled up like a jelly roll and baked, it is traditionally eaten on holidays.  It's so rich, it only takes a little to satisfy your sweet tooth.
Nick Carmody and his mother, Mary, had traveled from Conifer, Colorado to demonstrate the art of potica making.  They have a small company, Rocky Mountain Potica, which will mail-order many flavors of this pastry, including Strawberry Rhubarb Cream Cheese, Hazelnut Milk Chocolate, and Cherries Jubilee.  See www.rockymountainpotica.com
They had only brought the traditional kind to taste, but no matter -the samples disappeared in no time.  Because their company makes every potica to order, they will try to accommodate special flavor orders.   Hmmm- I wonder if they would consider a pumpkinseed oil potica?