After waiting nearly a century for the ultimate food shopping experience in North America, it has finally arrived just down the road from Olney.  Wegmans, a chain of grocery stores from upstate New York with a cult following, has come to our neighborhood.
I was invited to see the new Wegmans store in Columbia yesterday.  I met two PR people, Cynthia Glover and Jo Natale, who gave me a guided tour.  I had been making pilgrimages to Hunt Valley and had been to another Wegmans once during a trip north, so I was ready for this store to impress me with the sheer vastness and variety of their offerings.  They did not disappoint!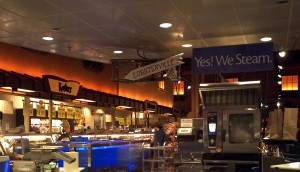 It was fun to walk around the store watching the employees get ready for the opening.  They were busy stocking, cooking, weighing, planning, and bustling around with a sense of suppressed excitement, but also quiet professionalism.  For practice, they cook each other lunch.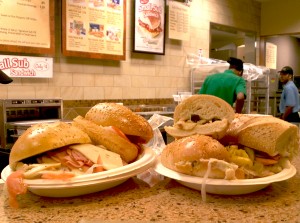 Wegmans opened its first store in Rochester, NY in 1916, and has been evolving into a relatively small but impactful chain, still owned and operated by the founding family.  This store, at 135,000 square feet, is the second-largest in the chain.  It will actually be the fifth in Maryland, but the first convenient to us (we clocked it at 14 miles from Ashton, 25 minutes down Route 32).
Here are a few things that set Wegmans apart from other grocery stores: a large selection of prepared food, which can be taken out or eaten in the store – there is seating for 400 in several different areas;  the variety and quality of their produce offerings; specialty shops for sushi, pastry, breads, seafood, meat, natural and organic foods, tea, International foods, deli, cheese, and a Kosher deli.  Many offerings are produced in-house.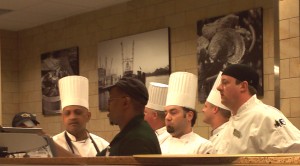 They offer a line of store-brand packaged goods with "wellness keys" on the labels to indicate various benefits such as gluten-free, high-fiber, low-fat, etc. They even publish a magazine, "Wegmans Menu," full of recipes and coupons.  The take-out meal options include a set of mix-and-match meals priced from $6.00 to $10.00, depending on the cost of the entree.
The Columbia store plans to offer local produce whenever possible.  It includes a pharmacy, home goods, florist, books and magazines, and greeting cards, but then so do many stores.  It's the food, service and fair pricing that make the difference.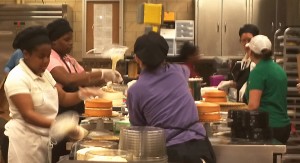 One of their points of pride concern employee relations; they consistently place high in Fortune magazine's "Best Places To Work" survey.  The new store manager, Wendy Webster, is a prime example – she has been with Wegmans 21 years, starting as a deli manager trainee.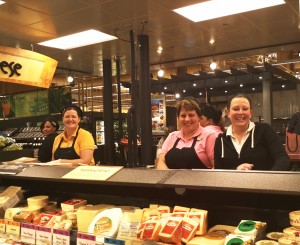 I spoke to Adam Bowman, a Japan-trained sushi master who has come from another store to initiate the Columbia staff into the mysteries of raw fish and vinegar-infused rice.  He told me that Wegmans sources all their sushi rice from one farmer in California who mills it to their specifications.  In addition to offering traditional forms of sushi, they like to innovate.  I was the first customer to taste a new rice paper wrap flavored with pineapple and habanero peppers.  There will also be a mild mango wrap for the unadventurous.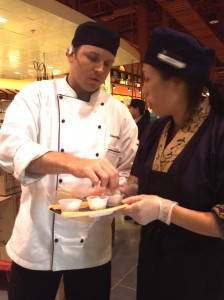 Even the parking garage reveals a thoughtful mindset.  The rows of parking spaces are marked with vegetables.  We pulled out from the tomato row, anticipating many happy returns.