Here is a collection of some oddities I've encountered in the last few weeks.
The Long, Dark Tea Towel of the Soul
Well, no, it's actually quite a cheerful tea towel, but I couldn't resist the Douglas Adams reference.  Unfortunately, the picture cuts off the legs of the pigeons.  They are goose-stepping.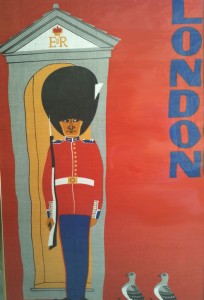 I got it at the Sandy Spring Friends House White Elephant Sale (which itself would make a good D.N.A. book title).  It's very nicely framed, and at first glance looked like a poster.  Closer inspection revealed its lineny character, and my resistance to yet another wall decoration faded.  It's now leaning up against the wall on my stair landing, another addition to my tea towel collection.
A Few Shy of a Picnic
On our last visit to Wegman's Hunt Valley store (digression: Wegman's will open a store in Columbia next week!!  Watch for my inevitable post!!), I walked past the display of cakes disguised as watermelons without looking closely.  Only after a smart remark by my daughter did I go back for a second look.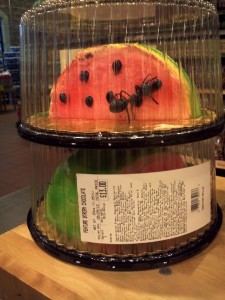 Yes, those are hugely out-of-proportion plastic ants decorating the  trompe l'oeil confection.  I guess it would make a good joke to take to a picnic, but for my taste, it's one bridge too far.
A Spectre Is Haunting Olney
Stranded on a concrete island between two shopping centers, an empty building sits forlorn, bereft of all indications of its erstwhile life, save one: the ghostly visage of Colonel Sanders etched into the window glass.
The former fried chicken emporium awaits a new tenant.  Dare we hope that the portraits of the Colonel will be preserved?  Alas, probably not.  But for now, there they are, looking out at us looking in.