After the conversation part of the evening ended (too soon!), the portrait unveiling and reception commenced.  From the auditorium, we processed to the Kogod Courtyard – an awesome venue for a party.  I have been there in the daytime, but I had not realized how dramatic lighting could give a sense of ethereal beauty and mystery to this space, even when filled with people.
The portrait was commissioned by the museum from Dave Woody, winner of the 2009 Outwin Boochever Portrait Competition.  Mr. Woody and Mary Boochever were present, along with G. Wayne Clough, the Smithsonian Secretary, and Martin Sullivan, Director of the National Portrait Gallery.  There were short speeches, and Ms. Waters unveiled her portrait.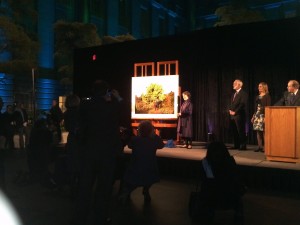 All the chefs of the night came on stage for a group picture with Ms. Waters.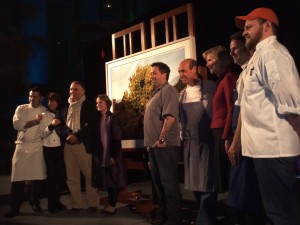 Then we turned our attention to stations serving food by some of the most well-known chefs in Washington: Jose Andres had jambon Iberico on offer, sliced appropriately thin but wonderfully savory. Todd Gray of Equinox offered duck breast and fig chutney.
Nora Pouillon brought a cornucopia of vegetable dishes to one of the most popular stations. There were oysters from the Rappahannock River.  Mike Isabella deliciously embellished striped bass crudo.
Adam Bernbach of Proof and Estadio compounded a potent but smooth cocktail of Catoctin Creek gin and tarragon-pear soda (they served food, too, but I was a little tipsy by then and didn't take a note – and this applies to Susan Gage Caterers and Cathal Armstrong from Restaurant Eve as well – apologies!)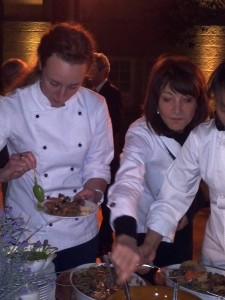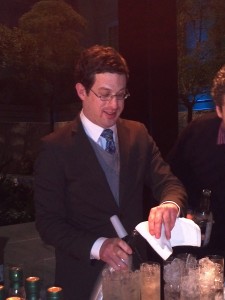 Cowgirl Creamery provided a selection of cheeses.  How lucky are we in DC to have the only Cowgirl store outside of California?  Whole Foods, Barboursville Vineyards, Fermin, and ECOPIA Farms also generously provided food and wine.
To get a really good look at the portrait, go to the NPG website: http://newsdesk.si.edu/photos/alice-waters-portrait
Next: Part 3: The Saturday Night Sips at the Newseum.