I have enjoyed Melissa Clark's column in the New York Times for many years, so when the 6th and I Historic Synagogue hosted her on a tour stop for her latest cookbook, Cook This Now: 120 Easy and Delectable Dishes You Can't Wait to Make, I went right down there to meet her.  By happy coincidence, she read the one excerpt from the book that most endeared her to me.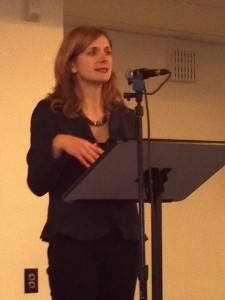 Bundling up in her down coat and cocooning her daughter in layers of snowsuit and bunting, her description of her trips to the Siberia-like Grand Army Plaza in deep midwinter cements her devotion to the farmers market in all seasons.
Cook This Now represents the evolution of her food sensibility from her childhood, when her parents cooked "Julia Child food," and thought, like many Americans, that French food was the epitome of fine dining.
When she started her own career in the kitchens of professional chefs, she realized that they all have different techniques, and that there is not just one single way to cook.  Her writing credits reflect this eclectic approach to cooking, as they include many books co-written with famous chefs and The Skinny: How to Fit into Your Little Black Dress Forever.  She is a walking advertisement for the latter book (if I were a pettier person, I'd hate her).
The book in hand contains a collection of recipes arranged by season, starting, handily enough, with Winter.  The first recipe in that section just happens to be for White Bean Stew with Rosemary, Garlic, and Farro, and I just happened to have beans, farro, and a ham bone, which was crying out to be cooked.
It did call for ¼ cup of olive oil to start cooking (and more for finishing!), which I thought was excessive, but I forbore from using less.  The result was some of the tastiest bean soup I have ever made.  The olive oil, in addition to both cooked and raw garlic, gave it a depth of flavor that was wonderful.
All the recipes are followed by a list of variations, and sometimes suggestions for switching out ingredients to make completely different dishes with the same procedures.  I look forward to following the seasons with the recipes and personal anecdotes Melissa describes so well, especially those involving her daughter, Dahlia.
A note about the book itself:  It seems like a throwback to an earlier era of cookbooks; black and white illustrations are sprinkled throughout the pages, while color plates are grouped together in two sections.  It's the first book produced this way I've seen for years.  And a quibble: some recipes are spread across two pages, odd to even, so the whole recipe is not contained on one page or two facing pages.  The cook is thus forced to flip the page while cooking.  This could have been prevented with more attention to recipe layout.
A description of the book and some recipes can be found here: http://melissaclark.typepad.com/blog/cook-this-now.html