For the last several months, the two-chef team Salt & Pepper (Terrell Danley and Brian Reeve) have been staging a series of cooking demos at area Whole Foods Markets.  Last week, I went down to the Bethesda branch to say hello.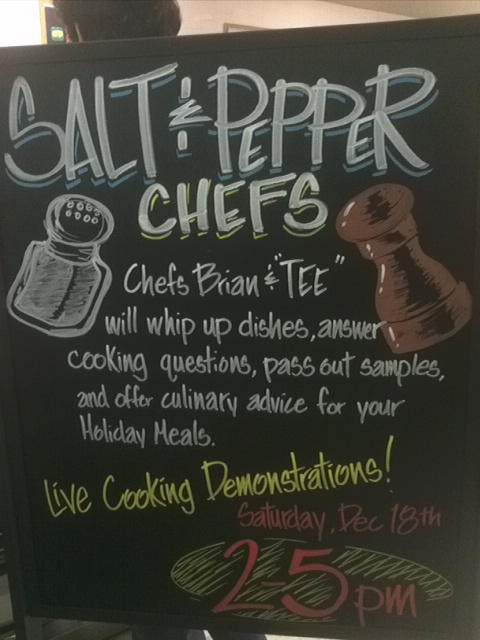 They are one (or two, depending on how you count!) of our favorite demo chefs at OFAM.  Always spontaneous and responsive to what's in season and available, they cook, interact, and inform the Market patrons of new ways to use products from our farmers and vendors.  And they are accompanied by Drakeel Burns, who writes down the recipes as they are cooking and then sends them to me to post.  Find them at: http://www.olneyfarmersmarket.org/recipe.html.
At Whole Foods, shoppers came and went, pausing to watch and taste.  Brian made dessert first, as the chocolate pie needed to firm up in the refrigerator for a while.  He went on to make green beans with onions and sweet peppers.  Recipes for both of these can be found in their cookbook, Salt & Pepper's Ten Favorite Recipes, available here: http://www.saltandpepperchefs.com.  There are actually more than 10 recipes in it – many photos and clear instructions make them a snap to follow.  Drakeel has also posted recipes for the dishes from the Whole Foods demo at that website.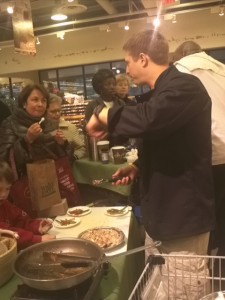 Chef Tee featured dishes made with smoked turkey.  Clam chowder with turkey substituted for ham was just perfect for a chilly day.  Then, on to an improvisation: red, white and blue potato hash with smoked turkey and a surprise ingredient: orange zest.  The touch of citrus added a nice, bright note of flavor.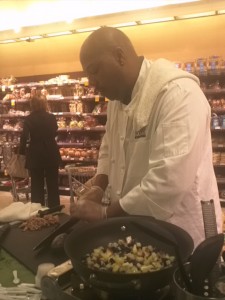 Several small shoppers awaited the chocolate pie with great anticipation.  Patience was rewarded when the samples were served.  Delicious!
We couldn't stay for the final two dishes: Baked spaghetti squash with sherry, and a stir-fry of Swiss kale with more of that smoked turkey, but I look forward to the Market season and another visit or two from the guys.  Be sure to check on the OFAM website or sign up for the newsletter so you will know when to come out and watch.