Quiches, Kugels, and Couscous: My Search for Jewish Cooking in France
Joan Nathan is one of this country's leading authorities on Jewish cooking.  Her previous books, from The Flavor of Jerusalem (published in 1974), through Jewish Cooking in America and The New American Kitchen, have been among the rare cookbooks that are both compulsively readable and full of reliable recipes.  Her latest book is true to the mold.
In Quiches, Kugels, and Couscous: My Search for Jewish Cooking in France she returns to the country which she grew to love during a junior year abroad in college, to travel extensively, interview and cook with French Jews.  She sought out those whose families had deep roots in the country as well as those who had come more recently.  In addition, she did extensive research into a culinary history beginning in the Roman Empire.  The result is a rich tapestry of dishes, far more diverse than this reader, for one, would have imagined.
It is beautifully produced: full of pictures, with recipes complete on one page or two facing pages.  The text accompanying the recipes is replete with personal anecdotes and deep research about the history and geographic wanderings of the Jews of France. Through migration and persecution, they adapted their traditional family cooking to new ingredients, as well as actively introducing new spices and other ingredients through continent-crossing trade routes in use well before Marco Polo.
Religious influences were also important in shaping the cooking of French Jews.  Dietary laws forbid the mixing of milk and meat, so the cream sauces for meat so typical of French food are conspicuously absent; pork and shellfish are also missing.  Observance of the Sabbath (during which cooking is forbidden) is responsible for the selection of dishes designed to cook slowly over a very long time.
The chapter on "Beef, Veal and Lamb" is illustrative of the diversity of influences: there are recipes for cholent, pot-au-feu, choucroute, and adafina – all varieties of slow-cooked braises of differing cultural origins, all now part of the cuisine.
Joan's deep personal connections in France made this book possible.  Many recipes come with an anecdote about the contributor, which often leads to a lesson in recent history.  Some of the history is not pleasant; past anti-Semitism is an unfortunate legacy.  Often, those Joan approached would not at first admit to being Jewish.  The more recent Moroccan immigrants, free of this cloud of history, were more forthcoming.
A glossary of terms and ingredients used in the recipes, a guide to ingredient sources, and a bibliography add to the value and usefulness of this extraordinary book.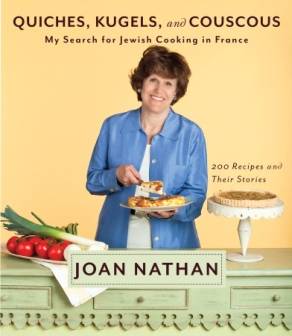 There is a selection of recipes from the book here:
http://www.randomhouse.com/book/119911/quiches-kugels-and-couscous-by-joan-nathan#excerpt