We went down to the Verizon Center thinking we were going to see a preview of the Sherlock Holmes movie, but we got there too late.  Rather than waste the trip, we decided to eat at one of our favorite remnants of the old neighborhood, Chinatown Express.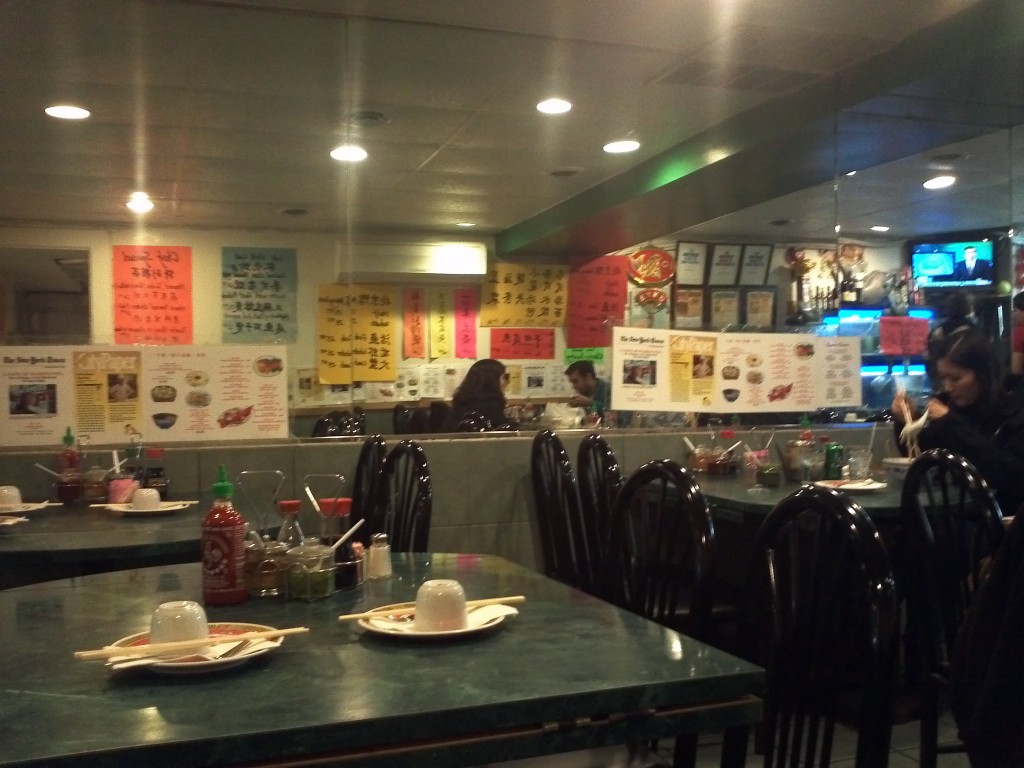 It's in a decrepit old building that any self-respecting tourist would never think to enter, but the house-made noodles and dumplings are the real deal, made continuously in the front window.  They have a full menu, but I go for a dumpling plate and bowl of noodles almost every time.
This time did not disappoint.  We ordered a split dish of half leek-and-pork and half seafood dumplings.  The wrappers were thick (but not too thick) and chewy, and the leek-and-pork were delicious.  The seafood were just a little too bland, but some sliced garlic in vinegar from the condiment selection fixed that.  (Yes, I am too wussy for the hot pepper sauce.)
I ordered tripe and wontons in soup with fresh noodles.  I had to insist that I knew what I was getting and that I liked it!  Tripe is hard enough to find that I tend to order it wherever I see it on a menu.  Chinese restaurants, pho joints and menudo about cover the options, except for al Sospiro Trattoria in Olney, where I can get a plate of tripe in tomato sauce.
The soup broth was a little bland, but zipped right up with the addition of more garlic and some green sauce that I couldn't quite suss out, but it smelled wonderful and tasted nice and fresh.  The surprise stars were the wontons, which I initially thought might be overkill in with the noodles, but were lovely, stuffed with a tasty mince.  My dinner companion ordered fried noodles with beef.  They were in generic Chinese brown sauce, also tasty but not exceptional.
The interior is of the type that reassures you that the management is not wasting any money on unimportant things like decoration, but instead is concentrating on hiring the best cooks and buying ingredients of the highest quality.  (Have you heard about the restaurant on the moon?  Great food, no atmosphere!)
The dumpling maker in the window happily posed for a picture.  I suspect she's used to it.  Long may she and her fellow noodle- and dumpling-makers wave!