6th Oct 2011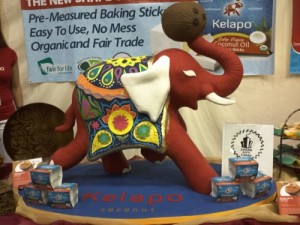 This will be my first attempt to post pictures on this blog, so bear with me. The Natural Products Expo had some great visuals, one of which was an elephant cake made by Charm City Cakes, a local Baltimore bakery. The Kelapo coconut products people swore that it was a real, edible cake made with their coconut oil. Unfortunately, they were loath to cut it up to prove this point, so I couldn't say.
The Taiyaki-making machine was even more interesting, because they were giving out samples of the little fish-shaped fritters the machine turns out. In Japan, there are tiny shops dispensing these snacks in every neighborhood; my daughter had one down the block from her apartment when she lived in Tokyo. The fillings change with the season. At the Expo, they offered pumpkin spice-flavored cream filling.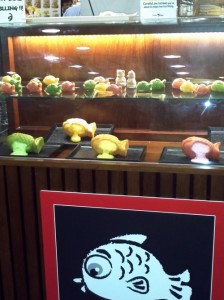 The last picture shows a display of the colors and fillings available using plastic models to represent the real food. In Japan, many restaurants have these models of food displayed in their windows, making it easy to order when you don't speak Japanese! There is a street in Tokyo lined with restaurant supply shops, some specializing in selling every kind of food model you can imagine, both raw ingredients and finished dishes.
Judy Newton